UNHCR | Published on November 13, 2007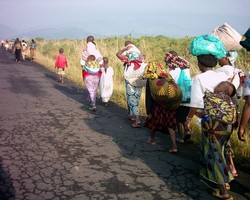 Photo: Gratien Ira/IRIN

Clashes between various armed groups in North Kivu have displaced tens of thousands of people
GOMA, Democratic Republic of the Congo –
Tens of thousands of previously uprooted Congolese in five major displacement camps were forced to flee again Tuesday following the latest confrontation between government forces and suspected renegade troops in the eastern Democratic Republic of the Congo (DRC).
Though the camps, near the town of Goma, were apparently not directly targeted, panic soon spread among the displaced, according to UNHCR staff.
"There is an attack and we have to leave," a frightened internally displaced Congolese told a UNHCR field safety advisor in the area.
At least 28,000 IDPs out of some 38,000 sheltered at sites Mugunga I, Mugunga II and Lac Vert have left following Tuesday's dawn skirmishes in hills surrounding the camps. Sporadic gunfire and mortar rounds could still be heard in the area Tuesday morning. In addition, estimates are some 2,000 people have fled from the Bulengo, an IDP site hosting some 10,000 IDPs.
The situation is dramatic and critical as tens of thousands of IDPs from the camps, mixed with local people who are also fleeing the fighting, jam roads leading to Goma under torrential rains. Some of them were arriving at Buhimba, an IDP site near Goma that UNHCR established in early October.
"The main road toward Sake was crowded with people; we had difficulties getting through," said UNHCR field safety advisor Pierre Nazroo. "Internally displace people are moving from site to site, direction Goma."
According to sketchy initial reports, the IDPs have taken their belongings and the some of the aid they received at the camps with them. Some of the sites were reportedly pillaged after the IDPs left. Few of the plastic sheets distributed by UNHCR last week can still be seen covering makeshift huts in the camps.
UNHCR teams, together with other UN agencies, are presently trying to assess the new situation and immediate needs, including shelter, food and protection.
Continued fighting in North Kivu province between government forces, renegade troops and rebels since December 2006 has led to the worst internal displacement in the area since the end of the civil war in 2004. Some 375,000 Congolese have been forced to leave their homes in the province since last December, including more than 160,000 in the last two months alone.
UNHCR is urging all parties to refrain from attacks on internally displaced people and civilians, and to find a negotiated solution for the prolonged violence that continues to plague North Kivu and its population.
With sharpening inter-ethnic divides and a continuous build-up of military forces, UNHCR remains deeply concerned about the risks of severe human rights abuses and violence against civilians.
END
For further information on these topics, please contact:
Jens Hesemann (in Kinshasa) +243815554910; GSM: +243817009484
Millicent Mutuli (in Nairobi) +254204222750; GSM: +254735337713
Andrej Mahecic (in Geneva) +41227398657; GSM: +41792007617