Barber report - Download MP3 (436k)


Listen to Barber report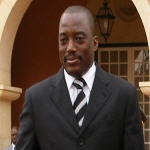 The president of the Democratic Republic of Congo has announced changes in his government, naming 10 new ministers, while at the same time reducing the number of government positions. Kari Barber reports from Kinshasa those in opposition to the government say it needs more than a reorganization.
President Kabila's cabinet was reduced from 59 to 45 members as part of a long-anticipated reorganization that was announced Monday. While some positions were combined, others were eliminated. And one new position was created, minister in charge of parliamentary relations.
Experts say the government Mr. Kabila formed after winning the 2006 election was too large and unwieldy for the economically strapped country.
Opposition leader Mbwebwe Kapamba says the reorganization does nothing to address political divisions in the country that have at times turned violent.
"The magnitude of the crisis, the root of the crisis, is something different than simply reshuffling a cabinet," said Kapamba.
Kapamba is head of the Patriotic Front opposition party.
He says opposition leaders like himself are waiting for the government to take steps to reconcile with them. Kapamba says he wants new elections.
Many died in violence surrounding the 2006 elections. In March, hundreds more were killed when militia loyal to opposition leader Jean-Pierre Bemba clashed with Mr. Kabila's forces in the capital.
Kapamba, who boycotted the election, says the roots of this tense political environment need to be addressed.
"The only thing I can say is to invite those who are in power today, those who were so labeled and were elected, to have talks with those who did not participate in the election to know how the future of this country will go," he said.
The country, rich in natural resources, has long suffered under the weight of poverty and political instability. Many had hoped the presidential elections in 2006 would usher in an era of democracy and stability.
According to the announcement, the new government will include more women and each of the provinces will have at least two representatives. Many of the key ministries, including foreign affairs, interior, and defense will stay the same. The prime minister, longtime opposition leader Antoine Gizenga, will also keep his post.