Reporters Without Borders | Published on May 22, 2008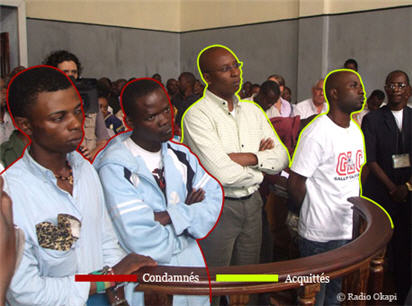 ©Radio Okapi

Reporters Without Borders and its partner organisation in Democratic Republic of Congo, Journalist in Danger (JED), are relieved to learn that the two friends of journalist Serge Maheshe who were with him when he was murdered last year in Bukavu, in the eastern province Sud-Kivu, have been acquitted on appeal of instigating his murder.

The verdict was issued yesterday by a Bukavu military court, which confirmed the death sentences for the two men previously convicted of carrying out the murder, Freddy Bisimwa Matabaro and Mugisho Rwenzagabo, also known as Mastakila, and sentenced a third civilian to death.

"We welcome the acquittal of Maheshe's two friends but we deplore the repeated violations of due process during both the trial and appeal," Reporters Without Borders said. "There were no ballistic tests or autopsy. The defence lawyers and independent observers received anonymous threats. And certain hypotheses were deliberately ignored. This verdict is the outcome of a botched trial based on a superficial investigation."

At the prosecution's request, the military appeal court's presiding judge found there was no evidence that Maheshe's two friends, Serge Mohima and Alain Mulimbi Shamavu, were involved in his murder, which took place when they were with him on a Bukavu street on 13 June 2007.

But although the appeal court confirmed the death sentence for Matabaro and Rwenzagabo, it found them guilty of homicide carried out in order to "facilitate a robbery" rather than "murder," the charge on which they were originally convicted.

The third civilian to be given a death sentence was Patient Bisimwa, who was not a defendant in the original trial. He was convicted of "criminal association." The prosecution identified him as an accomplice of the two killers but did not ask the court to convict him. In its final verdict, the appeal court also cleared the authorities of any responsibility.

The news editor of UN-backed Radio Okapi's regional office in Bukavu, Maheshe was gunned down as he was leaving a friend's home in a residential district of Bukavu at around 9 p.m. on 13 June 2007. He was about to get into his UN-marked car when he and his two close friends were approached by two men in civilian dress armed with Kalashnikov assault rifles, who ordered them to lie on the ground. One of them shot Maheshe twice in the legs and three times in the chest.

Aged 31, Maheshe had been working for Radio Okapi since 2002 and had become one of the leading members of the local press community.

Matabaro and Rwenzagabo, both men with a history of petty crime, were sentenced to death by a Bukavu military court on 28 August 2007 for Maheshe's murder. To widespread stupefaction, the court at the same time also convicted Maheshe's two friends, Mohima and Shamavu, of criminal association and sentenced them to death as well.

The court based its convictions solely on the "confessions" made by Matabaro and Rwenzagabo and their testimony that Maheshe's two friends were the instigators. No motive for the murder and no material evidence was produced. When issuing its verdict, the court acknowledged that many aspects of the case were unclear.

In a letter dated 8 September 2007, Matabaro and Rwenzagabo accused two military judges of bribing them to say they shot Maheshe at the behest of his two friends. They claimed in the letter, a copy of which is held by Reporters Without Borders, that the two judges provided them with evidence to support this story and promised them they would be allowed to travel to South Africa and would receive a regular income.

In a recent press release, Reporters Without Borders reported that four independent observers monitoring the appeal hearings received anonymous death threats on 17 and 19 April.

Reporters Without Borders defends imprisoned journalists and press freedom throughout the world. It has nine national sections (Austria, Belgium, Canada, France, Germany, Italy, Spain, Sweden and Switzerland). It has representatives in Bangkok, London, New York, Tokyo and Washington. And it has more than 120 correspondents worldwide.