Radio Okapi | Published on July 12, 2008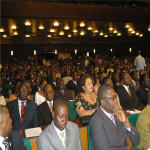 An amnesty law for acts of war and insurgency was passed this afternoon by the National Assembly. This law only applies to Congolese who have committed acts of war and insurgency in North and South Kivu, reports radiookapi.net
After a heated debate, the Minister of Justice and Human Rights Mutombo Bakafwasenda convinced Members of Parliament to pass the law for peace and unity of the country.
This amnesty, noted the minister, is a contract between the central government and armed groups from the East who asked for it as a sign of forgiveness. He added that the nation forgives these groups on the condition that they make reparations. Amnesty will only be granted to those who have sought it.
The amnesty law has six articles. Although it removes criminal responsability for acts of war and insurgency, the authors of such acts are still exposed to civil liability and will have to make amends if found guilty.
The amnesty period begins in June 2003 until the date of the law is enacted.
The seesion continued with the testimony of the Oil Minister.



Translated by CongoPlanet.com | Original article in French