Senator Russ Feingold's Office | Published on August 26, 2007
FEINGOLD VISITS AFRICA TO FOCUS ON
REGIONAL AND INTERNATIONAL SECURITY ISSUES
Chairman of Senate Foreign Relations Subcommittee on African Affairs Will Visit Democratic Republic of Congo, Uganda During Eighth Visit to the Continent
August 24, 2007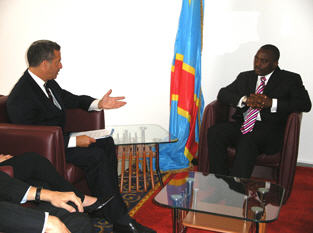 Washington, D.C. – U.S. Senator Russ Feingold is traveling through the African countries of Democratic Republic of Congo (DRC) and Uganda to focus on security issues and their regional and international impact. For Feingold, the Chairman of the Senate Foreign Relations Subcommittee on African Affairs, the trip marks his eighth visit to the continent during his tenure in the U.S. Senate. Senator Feingold will meet with a number of political and military leaders throughout the region and will focus on a broad range of issues including the DRC's efforts at security sector reform, ongoing violence in eastern DRC, and peace negotiations to end the conflict in northern Uganda. Feingold will also focus on the proposed U.S. military command in Africa or AFRICOM.
"It is in the security interest of these African nations, the United States and the international community as a whole that democracies and good governance take root in this critical region of Africa," Feingold said. "As chairman of the African Affairs subcommittee, I hope that my visit will provide us with a better understanding of what more we can do to help bring peace and security to a region that has been crippled by violence for years. I'm looking forward to meeting with elected officials, military leaders, diplomats, and others to gain a better understanding of how far we've come, how far we need to go, and how the U.S. can continue to be a good partner in achieving these goals."
Feingold has followed issues in the region very closely from his position on the Senate Foreign Relations Committee and the Senate Select Committee on Intelligence. On July 18th, Senator Feingold held a subcommittee hearing on democratic developments in sub-Saharan Africa including a focus on the DRC's first free and open election in almost four decades. On August 1st, Senator Feingold held a hearing on AFRICOM, the U.S. military's Africa combatant command, which is still in its nascent phase. Earlier this year, the Senate passed a resolution sponsored by Senator Feingold calling for recommitment to the Ugandan peace talks and for increased U.S. engagement. And just this week, Senator Feingold sent a letter to World Bank President Zoellick regarding the mismanagement of natural resources in the DRC.
Feingold last visited the continent in late 2006 when he toured the Horn of Africa including Kenya and Ethiopia to monitor the situation in Somalia. Feingold has been a member of the Senate Foreign Relations Committee as well as the Subcommittee on African Affairs during his entire fourteen-year tenure as a U.S. Senator.