Russia to strengthen ties with DR Congo

By Xinhua | Published on April 8, 2009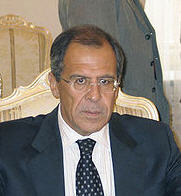 Sergei Lavrov
Russia favors strengthened relations with the Democratic Republic of Congo (DR Congo), said Russian Foreign Minister Sergei Lavrov here Tuesday when meeting his Congolese counterpart Alexis Thambwe Mwamba.

"It is time to step up our relations," the Itar-Tass quoted Lavrov as saying, "We have opportunities for this now. Our contacts are those of partners, and we wish to develop relations in every direction."

"We have themes to discuss in the area of bilateral relations and on Africa's problems, also as regards international efforts to stabilize the situation on the continent," Lavrov said.

Mwamba said his visit will "give the impetus to Russian-Congolese economic cooperation."

The working visit of Mwamba to Russia from April 5 to April 9 is the first of its kind since the two countries established diplomatic ties in July 1960, according to Russian foreign ministry spokesman Andrei Nesterenko.

Due to the social and economic situation in DR Congo, the Russian government has decided to provide humanitarian aid worth 2million U.S. dollars for the country, said Nesterenko.

The Russian Ministry for Emergencies has contacted the Office of the UN High Commissioner for Refugees to work out the range of goods and ways of delivery, he added.