VOA News | Published on January 11, 2010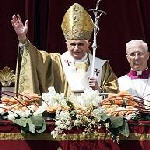 Pope Benedict focused his annual address to ambassadors accredited to the Vatican on the environment and the protection of creation. He denounced the failure of world leaders to agree to a new climate change treaty in Copenhagen last month.
In his address to diplomats from more than 170 nations accredited to the Vatican, Pope Benedict expressed concern about the failure to reach agreement on climate change at the Copenhagen summit last month.
Speaking in French, he said he shared "the growing concern caused by economic and political resistance to combating the degradation of the environment." The pope expressed the hope that an agreement would be reached to effectively deal with this question before the end of the year. Follow-up conferences are scheduled in Bonn and Mexico City in 2010.
Benedict didn't name countries responsible for bogging down negotiations, but explained why the matter is of utmost importance. He said it has to do with the future of some nations, particularly island states.
Pope Benedict considers safeguarding the environment a moral issue. He has been dubbed the "green pope" for his increasingly vocal concern about protecting the environment. He told the diplomats that in order to cultivate peace, one must protect creation.
"How can we forget, " the pope said, "that the struggle for access to natural resources is one of the causes of a number of conflicts, not least in Africa, as well as a continuing threat elsewhere?"
The pope called for the "appropriate management" of natural resources, particularly in economically disadvantaged nations. He said enormous resources were going to military spending "and the cost of maintaining and developing nuclear arsenals" instead of being diverted to help the poor.

Benedict decried what he called "indifference, amounting practically to resignation of public opinion worldwide" of conflicts such as those in Darfur, Somalia and the Democratic Republic of the Congo.