Congo News Agency | Published on February 11, 2012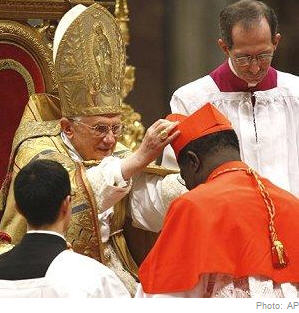 Newly-elevated Cardinal Laurent Monsengwo Pasinya, of the Democratic Republic of Congo, receives the red three-cornered biretta hat from the Pope during a consistory inside St. Peter's Basilica, at the Vatican, 20 Nov 2010
Cardinal Laurent Monsengwo has been invited by Pope Benedict XVI to lead this year's Lenten exercises in the Vatican. The Congolese Conference of Catholic Bishops (CENCO) announced on Friday that Cardinal Monsengwo will preach to the Pope and the Roman Curia during the weeklong spiritual exercises.
"As always, the Pope will suspend all audiences including his Wednesday General Audiences during the exercises, which are due to take place from 26 February to 3 March," reports The Vatican Insider.
The influential Archbishop of Kinshasa, a prominent voice for social justice and human rights in the Democratic Republic of Congo for the last two decades, led Catholic bishops in condemning irregularities and fraud during and after last year's presidential and parliamentary elections.
Cardinal Monsengwo said in December that the results published by the electoral commission proclaiming President Joseph Kabila as the winner did "not conform to the truth or justice."
His positions on the elections have since been criticized in the media by some supporters of Mr. Kabila as biased towards opposition leader Etienne Tshisekedi. In its report on the elections released last month, the CENCO condemned what it called "a public and orchestrated campaign against the cardinal" that "has shocked Catholics."
Asked by Radio Okapi on Friday whether the Pope wanted to show his support for Cardinal Monsengwo by asking him to lead the Lenten exercises, the secretary general of the CENCO, Abbot Leonard Santendi, replied "Absolutely not. At that level, that's not what counts." He added that "the aim is to prepare in prayer the Holy Father and those who work with him for the most important Christian festivity, by following exercises which will be led by our cardinal."