BBC Sport | Published on September 14, 2010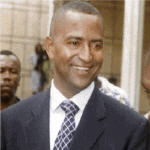 TP Mazembe president Moise Katumbi is up in arms over bans handed to two of his club's key players.
His outburst comes in the wake of TP Mazembe's qualification for the 2010 Champions League semi-finals.
The DR Congo side will now face the crucial stage of the competition without captain Tresor Mputu and midfielder Guy Lusadisu.
Fifa has imposed a one-year ban on Mputu and an 11-month ban on Lusadisu for their part in an ugly incident during May's Cecafa Club Cup in Rwanda.
TP Mazembe were invited to take part as guests but got evicted from the competition after their match against local favourites APR had to be abandoned.
Mputu and Lusadisu were singled out as having played key roles in a brawl which led to the referee's decision to call off the game.
The TP Mazembe skipper was sent off when he lost his cool and attacked the referee while Lusadisu assaulted a security officer who entered the pitch to try to calm things down.
But Katumbi has slammed the level of punishment as harsh and disproportionate given the ban renders the duo unavailable for the foreseeable future.
"We apologized to Cecafa and I've got a letter from Cecafa accepting our apology," Katumbi told BBC Sport.
"I know it's Fifa's job to protect the game but they have to check also the apology which has been accepted by Cecafa.
"I've seen players do the same thing in Europe but they don't get banned like our African players."
Katumbi said he believed his players are paying for a crime that had already been resolved at regional level, adding that he wants to know how the decision to ban his players was arrived at.
"We have appealed to Fifa because we're very surprised that they waited until our [Champions League] match against Esperance to suspend our players; why didn't they suspend them from the beginning?"
Without Mputu, the midfielder named the best African player on the continent in 2009, the Congolese side have struggled to impose themselves on this year's tournament.
"He's a talented player, it's a big absence not having him but the other players are giving their best. To qualify for the semi-finals without your captain is something big," said Katumbi.
"It's good also for the other players to show their talent. That's why people are going to get surprised at what Mazembe is going to do."