Xinhua | Published on May 12, 2014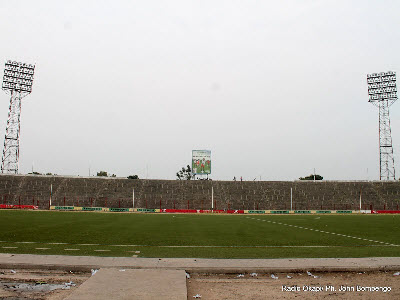 Tata Raphael stadium in Kinshasa |
Enlarge
At least 15 people died and 30 others were injured in a stampede that occurred during a football match on Sunday at the Tata Raphael stadium in Kinshasa, capital of the Democratic Republic of Congo (DR Congo).
The death toll was announced on Sunday evening through a statement from the interior ministry read on national television.
A source from DR Congo Red Cross said later on Sunday night that the death toll could rise.
"The number of deaths will certainly rise. We believe at least 20 people died and over 100 were injured," the source from Congolese Red Cross said.
A source from the stadium said that the match between two popular football teams in the country had been played in a sporting spirit until towards the end, with the score standing at 1-0 in favor of TP Mazembe.
"Supporters of V.Club who were seated on one side of the stadium were not pleased with TP Mazembe's victory over their team, " the source from the pitch said.
They therefore started throwing stones and other objects on the football pitch, forcing the referee to stop the game several times.
By the 90th minute, the score was still one to zero before the referee added five minutes. It is at this point that V.Club supporters threw more stones on the pitch.
The referee was forced to blow the final whistle even before the end of normal time.
Due to the rising tension, police officers decided to throw tear gas canisters on the side of V.Club supporters to disperse them.
Supporters of V.Club started seeking for every exit to leave the stadium. In the confusion that ensued, a section of the stadium wall collapsed and a gate was broken, resulting into deaths and injuries.