Congo News Agency | Published on July 26, 2013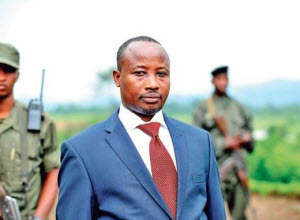 M23 Rebel leader Jean-Marie Runiga |
Enlarge
DR Congo's government said today it has sent three international arrest warrants to Rwanda against former M23 rebel leader Jean-Marie Runiga and commanders Baudouin Ngaruye, Eric Badege and Innocent Zimurinda.
Government spokesman Lambert Mende said that the Congolese government was looking forward to the response of the Rwandan government "in accordance with the agreement on judicial cooperation between the two countries, the commitments contained in item 5 of the Addis Ababa Framework Agreement and the latest recommendations from the UN Security Council."
The former M23 rebels are accused of murder, imprisonment, torture, rape, sexual slavery, persecution on ethnic grounds, conscription and use of children less than 15 years old into their rebel group.
Jean-Marie Runiga was removed in February as the leader of the M23 political wing by current M23 commander Sultani Makenga and later fled to Rwanda. Runiga had supported Bosco Ntaganda against Makenga when infighting broke out in the rebel group, ultimately leading to Ntaganda's escape to Kigali and transfer to the International Criminal Court.
The UN High Commissioner for Human Rights, Navi Pillay, has said about Ngaruye and Innocent Kaina, another M23 rebel commander, that "every effort must be made to hold these men, and the soldiers under their command, accountable for human rights violations committed against civilians -- both for crimes committed within the context of the current mutiny, and also for offences committed previously."
Current M23 rebel leader Sultani Makenga was put under U.S. sanctions in November last year. The U.S. said then that "Sultani Makenga is responsible for extensive atrocities against the population in the DRC, including the recruitment of child soldiers, and campaigns of violence against civilians."
While Rwanda has claimed for years that it does not support rebel groups in eastern Congo, it has nevertheless given refuge to several former rebel leaders accused of war crimes in Congo such as Laurent Nkunda, Jules Mutebusi, Runiga, Zimurinda, Ngaruye and others.
The UN and African Union-brokered Addis Ababa Framework Agreement, signed in February by 11 countries to tackle the conflict in eastern Congo, calls on neighboring countries to "neither harbor nor provide protection of any kind to persons accused of war crimes, crimes against humanity, acts of genocide or crimes of aggression, or persons falling under the UN sanctions regime."