VOA News | Published on October 18, 2014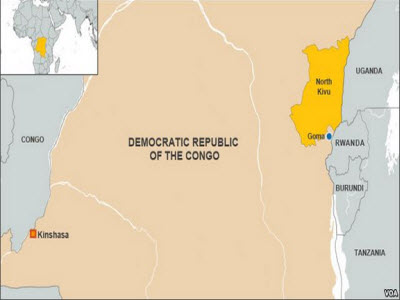 DRC map, North Kivu province |
Enlarge
Democratic Republic of the Congo officials said they suspected Ugandan rebels have killed at least 21 people in DRC's North Kivu province.
The French news agency, AFP, reported Saturday most of the victims of the overnight attack were women and children who were hacked and clubbed to death.
The assault happened 45 kilometers from the village of Beni where 26 people were killed earlier in the week. Authorities suspect the Ugandan rebels are also responsible for the earlier attack.
Officials said the rebel Allied Democratic Forces (ADF) operate in the DRC's eastern border zone despite the presence of U.N. peacekeeping troops and government forces.
There was no immediate comment from the U.N. peacekeeping mission on the latest attack.
Investigation
On Friday, DRC Information Minister Lambert Mende said that officials had launched an investigation into the attack earlier this week on the village of Beni that left at least 26 people dead and many injured.
Mende said the government in Kinshasa is working closely with the administration in Kampala, Uganda, sharing intelligence in a bid to end the violence carried out by the ADF rebels.
"We are coordinating with our counterpart in Uganda in terms of exchanging information," he said.