Congo News Agency | Published on February 10, 2014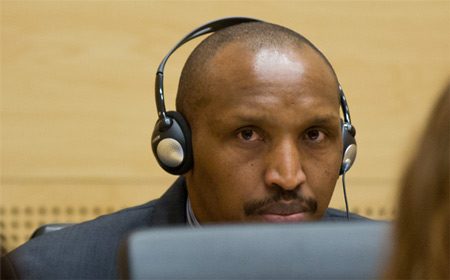 Bosco Ntaganda at the ICC on 02.10.2014 |
Enlarge
Former warlord Bosco Ntaganda attacked civilians because of their ethnicity in northeastern Congo's Ituri region, prosecutors said on Monday during a confirmation of charges hearing at the International Criminal Court.
Ntaganda "persecuted civilians on ethnic grounds, through deliberate attacks, forced displacement, murder, rape, sexual enslavement and pillaging," Chief Prosecutor Fatou Bensouda told pre-trial judges in The Hague.
After the hearings, the judges will decide whether or not to confirm the charges against the former warlod.
Rwandan-born Ntaganda became a general in the Congolese army as part of a peace deal signed between the government and CNDP rebels in 2009.
He had previously fought in the Rwandan army before becoming a commander in the Patriotic Forces for the Liberation of Congo militia operating in northeastern Congo and led by Thomas Lubanga.
The ICC first indicted Ntaganda in 2006, becoming one of its most wanted fugitives. New charges were added in 2012.
Prosecutors say that between 2002 and 2003, Ntaganda's UPC/FPLC forces "encircled the towns and villages of the Lendu and other non-Hema tribes, shelled them, and then ethnically cleansed the areas by killing and raping civilians, forcing their displacement to the surrounding forests and eventually looting their property."
Ntaganda has been charged with thirteen counts of war crimes and five counts of crimes against humanity.
The war crimes charges against him include the use of "child soldiers, pillaging, displacement of civilians, conscription of children under the age of 15, enlistment of children under the age of 15, use of children under the age of 15 to participate actively in hostilities."
The crimes against humanity charges against him include "murder and attempted murder of civilians, rape of civilians, sexual slavery of civilians, persecution on ethnic grounds, and forcible transfer of population."
Nicknamed the Terminator by his victims in the Ituri region in Orientale Province, he turned himself to the United States embassy in Kigali, Rwanda, on March 22, 2013, fleeing infighting in the M23 rebel group that former CNDP rebels formed in 2012 after the Congolese government decided to arrest Ntaganda.