Radio Okapi | Published on March 02, 2018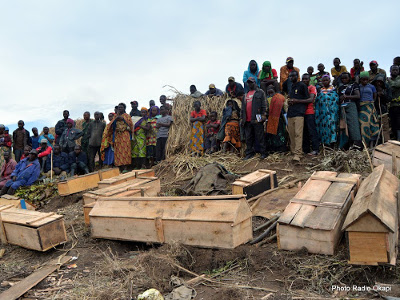 Burial of 29 civilians vkilled in a massacre in Luhanga village (North Kivu) on 11.28.2016.( Radio Okapi / Alain Kyalemaninwa Wandimoyi) |
Enlarge
New massacres were reported on Thursday in three villages in the territory of Djugu (Ituri). Officials in the area say that at least thirty bodies have already been discovered, but the search continues.
The first attack reportedly took place at around 2pm in Maze. The attackers are said to have been repelled by the police and Congolese army soldiers based in the area.
The attackers then reportedly returned around 4pm with reinforcements. They set houses on fire and killed residents in Maze and two other villages.
National member of parliament Raymond Tchedya, who represents Djugu, is reporting fifty deaths.
"It is with great sorrow that I have to tell you that at Maze there were eight bodies found, and in the next villages there are already more than forty-two bodies," Mr. Tchedya said.
While confirming the fighting between the attackers and the police and army, Mr. Tchedya called on the government to put an end to these massacres.
"We are not facing a rebellion. There is a provincial government and a national government. As proof, the government has nevertheless deployed soldiers on the ground, but it is necessary that these soldiers be able to actually stop the massacres," pleaded Mr. Tchedya.
The administrator of the territory of Djugu confirms these attacks without giving the exact number of people killed.
The spokesman of the army in Ituri, Lieutenant Jules Ngongo, could not be reached.