VOA News/Reuters | Published on February 12, 2018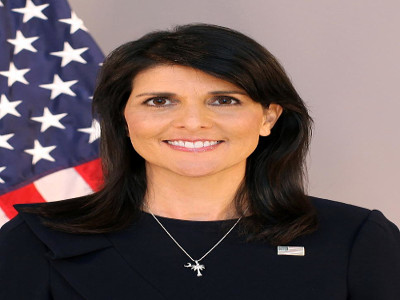 Nikki Haley, U.S. ambassador to the United Nations |
Enlarge
The United States warned the Democratic Republic of Congo on Monday against using an electronic voting system for a long-delayed presidential election in December this year because it has the potential to undermine the credibility of the poll.
U.S. Ambassador to the United Nations Nikki Haley told an informal U.N. Security Council meeting on the Congolese electoral process that deploying "an unfamiliar technology for the first time during a crucial election is an enormous risk."
"These elections must be held by paper ballots so there is no question by the Congolese people about the results. The U.S. has no appetite to support an electronic voting system," Haley told the meeting, which was organized by the United States.
Several other countries on the 15-member council also raised concerns about the possible use of electronic voting.
An election to replace President Joseph Kabila, who has been in power since his father was shot dead in office in 2001, is scheduled for the end of December. Congo's electoral commission finished registering 46 million voters last month.
Repeated stalling of the election has raised tensions across the country, triggering street protests and encouraging armed rebellions, especially since Kabila refused to step down when his mandate expired at the end of 2016.
Corneille Nangaa, President of the Independent National Electoral Commission, told the informal Security Council meeting that using voting machines would "reduce the weight of all the equipment deployed from 16,000 tons to less than 8,000 tons."
However, Rushdi Nackerdien, Africa director for the International Foundation for Electoral Systems, said "these machines still need to be tested, configured, deployed and used in a tense mistrustful context."
"On a single day it is proposed that roughly 106,000 machines must work flawlessly across 90,000 polling stations," he said. "Securing these machines and the data they transmit from cyber attacks will be critical and challenging."
Kabila's ruling majority and opposition leaders struck a deal allowing him to stay in power but required that the election be held by the end of 2017. The country's electoral commission, however, later said that was not possible and scheduled the vote for Dec. 23, 2018.
"The government is yet to take adequate steps to fully open political space and create an environment conducive to the holding of credible, free, fair and transparent elections," U.N. peacekeeping chief Jean-Pierre Lacroix said.
"No credible elections can take place in a context of fear and oppression," he said.