Radio Okapi | Published on August 07, 2019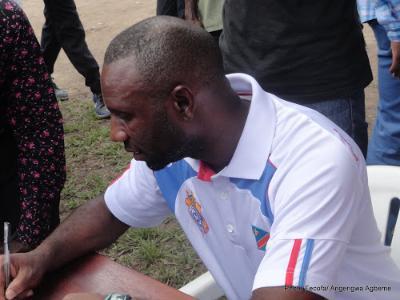 DR Congo Leopards Coach Florent Ibenge |
DR Congo national football team coach Florent Ibenge presented his resignation to the president of the Congolese Football Association (FECOFA) on Wednesday at the headquarters of the national football body.
In his statement of resignation to the press, Florent Ibenge thanked all his associates at AS Vita Club who "allowed him to join the national selection."
"I became the head of the national team thanks to the results obtained at Vita Club," said the Congolese technician.
Florent Ibenge said that he resigned without any kind of pressure. "I had already told those who know me that, whatever the results, this would be my last CAN [African Cup of Nations]. But, I will always remain at the disposition of the team. The president of FECOFA has offered me other positions, but we will consider them with no rush. The most important thing is that the DRC wins, and it will always stay in my heart," Coach Ibenge told reporters.
In office since December 2014, Florent Ibenge led the Leopards to a third place finish in the Africa Cup of Nations in 2015. He also won the African Nations Championship in 2016 with the Leopards.