Cafonline.com | Published on February 04, 2015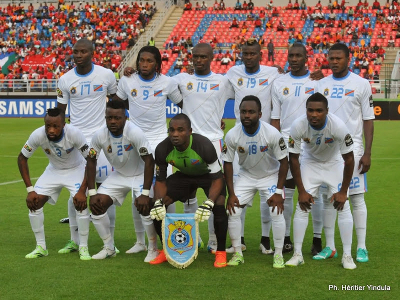 DR Congo Leopards during the Africa Cup of Nations in Equatorial Guinea |
Enlarge
Cote d'Ivoire coach Herve Renard is a happy man after guiding his side to the final of the Orange Africa Cup of Nations Equatorial Guinea 2015.
The Elephants booked their place in the final thanks to a 3-1 win over DR Congo in their semi-final clash on Wednesday in Bata.
Captain Yaya Toure broke the deadlock on 20 minutes before the Leopards rallied back through Dieudonne Mbokani three minutes later. Gervinho restored the Ivorians just before half time before Serge Konan sealed victory from a goalmouth action in the second half.
It was the second time since 2012 that the 1992 winners have reached the final and Frenchman Renard says "the most important is to reach the final" despite the difficult conditions under which the feat was achieved against a tough Congolese side.
"I didn't like our performance. We did not do most of the things well. It was a tough game," he said at the post-match press conference.
"In the second half we played well because DR Congo were tired. Yaya Toure played very well and did a lot of sacrifices for the team."
After guiding Zambia to the ultimate in 2012, history is staring in the face of Renard, with the prospect of becoming the first coach to win the flagship African football title with two different countries.
The Ivorians have failed to live-up to their pre-tournament favourites' tag since 2006 and the 46-year old is hoping to guide them to the 'promise land'.
"We will try to take the trophy to Abidjan," the Frenchman concluded.
Cote d'Ivoire will face either Ghana or hosts Equatorial Guinea in Sunday's final in Bata.