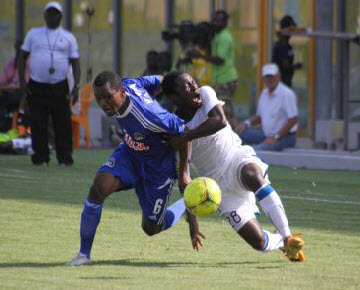 Despite having several occasions, Deo Kanda and TP Mazembe (blue) were unable to score against Berekum Chelsea. Photo: © TP Mazembe
TP Mazembe will play holders Esperance of Tunis in the semifinals of the CAF Champions League. The Crows, who had already booked their tickets to the last four, lost to Berekum Chelsea of Ghana 1-0 in Accra on Sunday in the last game of the group stage.
There were lots of occasions for Mazembe in the game but Berekum Chelsea were luckier in front of the goal with Jordan Opoku scoring on 80 minutes.
With 10 points, Mazembe finish second in Group B. Al Ahly of Egypt drew 1-1 with Cairo rivals Zamalek on Sunday to top the group with 11 points and will play Sunshine Stars of Nigeria in the semifinals.
The results set up a clash in the semifinals between the last two winners of the Champions League, Tunisia's Esperance and DR Congo's Mazembe.
Esperance had been unbeaten in the Champions league in a record-tying 19 consecutive games going back last season. They lost to ASO Chief of Algeria on Saturday in an inconsequential game with Esperance deciding to rest some key players.
Mazembe were disqualified at the group stage last season in a controversial decision that prevented them from defending their title. Esperance claimed Janvier Bessala Bokungu was still under contract with them when he played for Mazembe in a game against Simba Sports of Tanzania. Mazembe has said that world football governing body FIFA has ruled in their favor on an appeal of their disqualification by the Confederation of African Football and will seek rehabilitation.
Mazembe will be out for vengeance because of the role Esperance played in their disqualification last year before going on to win the title. Esperance will seek to avenge a 5-0 drubbing by Mazembe in the finals of the Champions League in 2010.
Esperance go into the semifinals as the clear favorites. But, as the Crows' moto this season says, "nothing is impossible to Mazembe." It is Football after all, any team can win on any given day.
The first leg of the showdown will be played in Lubumbashi in three weeks (5-7 October). They will meet again two weeks later for the second leg in Tunis (19-21 October).