Congo News Agency | Published on September 17, 2012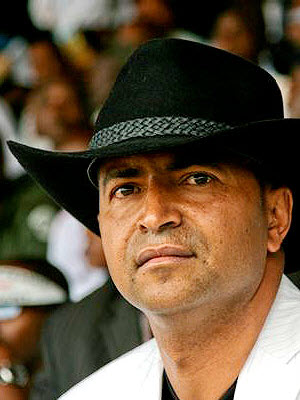 TP Mazembe chairman Moise Katumbi
TP Mazembe chairman Moise Katumbi says they are "pleased" to face holders Esperance of Tunis in the semifinals of the CAF Champions League this year.
"We wanted to meet Esperance of Tunis this year. We are therefore very pleased that the results of the competition have answered our prayers. We just hope the Confederation of African Football appoints referees worthy of running the two semifinals, which will be honoring African football. That's it. And we have been preparing ourselves for some time."
Mr. Katumbi made the comments after a loss to Berekum Chelsea of Ghana on Sunday that set his side on a collusion path with holders Esperance in the semifinals.
Although Esperance have had an impressive run this year, they did not fare so well the last time the two teams met in the 2010 Champions League finals. Mazembe thrashed Esperance 5-0 in Lubumbashi in the first leg and retained their 2009 title with a 1-1 draw in the second leg in Tunis.
There has been bad blood between the two clubs since. Esperance played a role in Mazembe's controversial disqualification last year and then went on to win the title. A decision the DR Congo football powerhouse says FIFA has ruled unwarranted.
TP Mazembe's fans have been calling for Esperance all season long this year as the Lubumbashi side moved on in the competition. No doubt they, and the players, will be extra-motivated when the two teams meet for the first leg in three weeks in Lubumbashi.