Congo News Agency | Published on October 14, 2012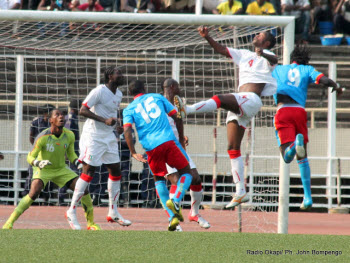 DR Congo's Leopards faced Equatorial Guinea's Nzalang in Kinshasa on 9.9.2012 |
DR Congo's national football team have qualified for the 2013 Africa Cup of Nations despite losing 2-1 to Equatorial Guinea's Nzalang Nacional in Malabo on Sunday.
Coach Claude LeRoy's men had secured a 4-0 win during the first leg in Kinshasa, giving themselves a cushion that proved too big for the determined guinean side to overcome. They advance 5-2 on aggregate.
The resolute Nzalang dominated the first half and were rewarded with goals on minutes 23 (Janvier Balboa) and 33 (Ben Konate), raising the hopes for a miracle in Malabo.
But Youssouf Mulumbu scored for the Leopards just before halftime, dashing the Guineans' dreams of a miraculous recovery from their disastrous first leg outing. The away goal meant they would now have to score four more goals without allowing any to qualify.
Dispirited and visibly tired, the Nzalang could not keep up with their first half fast pace after halftime and the score remained unchanged as time expired.
The Leopards will compete in the finals of the Africa Cup of Nations for the first time since 2006 after missing the last three editions.
Led by a string of players from Belgian side Anderlecht and DR Congo powerhouse TP Mazembe, the Leopards have shown signs of a resurgence since hiring Coach LeRoy a year ago. Coach LeRoy was also at the helm when they last qualified for the finals in 2006.
The Leopards have won Africa's most prestigious international football competition twice, in 1968 and 1974.