Congo News Agency | Published on November 19, 2012
Enlarge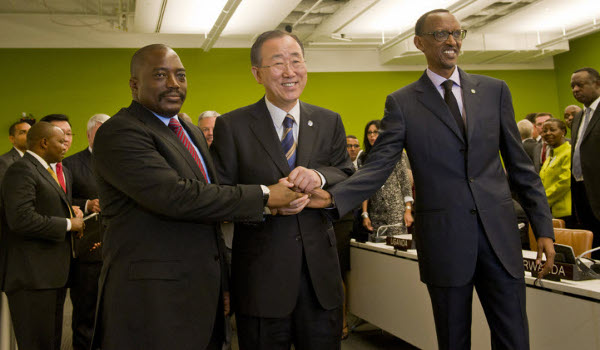 DR Congo's President Joseph Kabila, UN Secretary-General Ban Ki-moon and Rwanda's President Paul Kagame met on the sidelines of the 67th Session of the UN General Assembly in New York on 9.27.2012 |
Enlarge
M23 rebels claimed on Monday they were retreating from the outskirts of the eastern Congo city of Goma to give negotiations a chance after issuing a 24-hour ultimatum to the government. The government did not waste any time to respond.
The Congolese government said on Monday it will not negotiate with the M23 rebels who have wreaked havoc in North Kivu province for months and came close over the weekend to reaching the provincial capital city of Goma.
Government spokesman Lambert Mende told the AFP news agency that the M23 were a "fictitious" group and that the real culprit was Rwanda, which has been accused by a United Nations group of experts, Human Rights Watch, and the Congolese government of providing men, weapons and ammunitions to the rebel group.
Several donor countries, including the United States, have cut aid to the Rwandan government citing the evidence provided by the UN group of experts that top Rwandan officials, including Defense Minister James Kabarebe, are actively supporting the M23 rebels.
"These are fictitious forces established by Rwanda to conceal its criminal activities in the DRC, Mr. Mende said. "We prefer to deal with Rwanda, the real aggressor, in the International Conference on the Great Lakes Region (ICGLR)," he added.
"One does not negotiate with fiction, fiction is hollow," Mr. Mende said. "The government is busy negotiating with the real aggressor in the ICGLR. I think that's what the Congolese people want," he added.
Although the rebels claim they are retreating because they want the government to negotiate, many analysts doubt they would be able to overtake the capital city as easily as they have done with other smaller cities.
Even if they did overtake the city of Goma, holding it may prove more difficult, even with the support of thousands Rwandan troops, who are said to have crossed the border once again last week to reinforce the rebels as they attacked the city of Kibumba.
With nearly zero support amongst the population, the M23 rebels can occupy villages and small towns, forcing the population to flee, but doing so in a major city like Goma, with more than 1 million people, would lead to a crisis that even the stubborn Rwandan leaders in Kigali cannot afford.
It seems the Congolese government is calling the M23 rebels' bluff and daring them to attack.
Government and military officials in Goma said on Sunday they would fiercely defend the city if attacked, while in Kinshasa officials said they would even try to take back positions occupied by the rebels last week.