BBC Sport | Published on January 16, 2013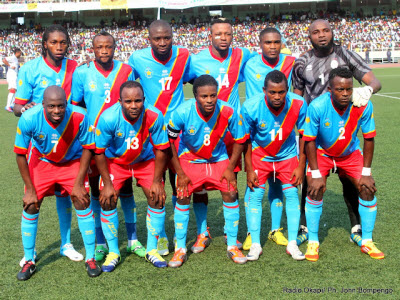 The Leopards before a game in Kinshasa on 9.9.2012 |
The Democratic Republic of Congo might finally be able to recapture their former glories thanks to the unifying influence of their French coach Claude Le Roy.
The Leopards are a traditional powerhouse of African football, having won the Africa Cup of Nations in 1968 and 1974 - the same year they became the first sub-Saharan African team to qualify for the World Cup.
Recent success has been in short supply, with their best showing at the Nations Cup in recent years being a third-place finish in 1998.
Their progress has been hindered by the refusal of some of their star players, including Anderlecht's prolific striker Dieumerci Mbokani and West Bromwich Albion midfielder Youssouf Mulumbu, to play for them.
However, under 64-year-old Le Roy, who is in his second spell in charge, that has all changed after both players returned to the fold.
"It is the end of a long battle," said Le Roy in June 2012, when Mbokani accepted his call-up following a 14-month exile because of a disagreement with former coach Robert Nouzaret.
"I didn't need any other player apart from Mbokani - he is the last player I have been waiting for."
Former Newcastle, Portsmouth and Blackpool striker Lomana LuaLua, who led the attack in DRC's last Nations Cup participation in Egypt in 2006, is likely to add useful experience, while Peterborough United's Gabriel Zakuani and Charleroi goalkeeper Parfait Mandanda - the younger brother of France international Steve Mandanda - are also in the squad.
DR Congo are in Group B along with Ghana, Mali and Niger and, under Le Roy, who won the Nations Cup with Cameroon in 1988 and led Ghana to third place in 2008, there is optimism they can perform well and eventually realise the dream of the country's football association president, Constant Omari Selemani, to qualify for the 2014 World Cup in Brazil.
"Foreign-based Congolese players have a lot of respect for Le Roy and are enthusiastic to play under him," said BBC Sport's Patrice Chitera. "He is also great at placing domestic players where they thrive best.
"If they perform well in South Africa, they will carry the morale over to the 2014 qualification matches and it will not be a surprise if they make it to Brazil.
"But if they don't go far enough in South Africa, the 2014 campaign is as good as over."
DR Congo beat Swaziland to reach the second round of World Cup qualifying, and they have won one and lost one so far in a tough group also containing Libya, Cameroon and Togo.