BBC Sport | Published on February 15, 2013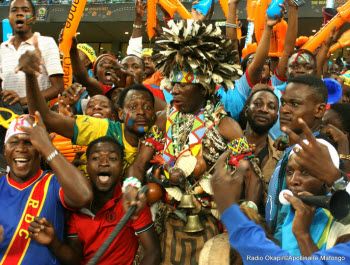 DR Congo fans at the 2013 Africa Cup of Nations in South Africa |
The Democratic Republic of Congo has announced its intention to bid to host the Africa Cup of Nations in 2019.
Despite having twice won the trophy, the vast country has never staged the continent's greatest sporting event.
"I handed the dossier to the Congolese federation which has already sent it to the Confederation of African Football," said sports minister Baudouin Banza Mukalay Nsungu.
DR Congo joins five other nations to have expressed an interest in hosting.
Nigeria, the country whose football team won its third Nations Cup title on Sunday, said it would bid for the tournament last September, while Liberia, Kenya, Zambia and Algeria have also indicated a keenness.
One of the biggest countries by landmass in Africa, DR Congo has security concerns in the east - a factor that Nsungu was quick to downplay.
"Don't exaggerate the security situation," he told BBC Sport.
"Even in countries where people are being kidnapped and where attacks are happening, such competitions are being organised."
There are numerous different armed groups operating in DR Congo, primarily in the east of the country.
The area has most recently been affected by a rebellion by the M23 rebel group which has forced 800,000 people from their homes.
Nonetheless, Nsungu believes that the troubles affecting the North Kivu region should not detract from DR Congo's ability to host.
"It's true we have some of these problems in North Kivu," he said. "But North Kivu is not the whole country, and we hope that by 2020 the insecurity will be resolved."
The Congolese drew comparisons to some of the fears that preceded South Africa hosting the continent's first World Cup three years ago.
"Before the World Cup went to South Africa, everybody was (against it). But despite everything, the competition went well - and then, this year's Nations Cup has has just been held there too."
DR Congo would plan to use stadiums in the capital Kinshasa and the second city Lubumbashi, with the possibility of taking games to a third - as yet unspecified - city.
"We will refurbish some stadiums and we will build some new ones too," Nsungu added.
The Confederation of African Football has yet to formally open bids to host the 2019 finals but is expected to do so later this year.
The hosting of the next two Nations Cups has already been decided, with Morocco set to stage the 2015 finals and fellow North Africans Libya the event two years after.