BBC News | Published on July 31, 2013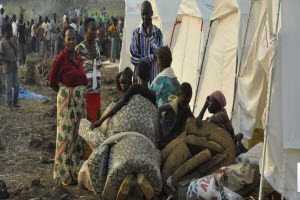 More than 800,000 civilians have been displaced because of the M23 rebellion |
Enlarge
Four Rwandans have told the BBC the army forcibly recruited them to fight for the M23 rebel group in neighbouring eastern Democratic Republic of Congo.
The four said they were seeking asylum in Uganda after fleeing the fighting.
The Rwandan army dismissed their claim, saying they must have made up their stories to get asylum.
Last week, the US called on Rwanda to stop backing the M23. UN experts and DR Congo officials say Rwanda has been sending troops to support the rebels.
'Kagame implicated'
Some 800,000 people have been displaced in resource-rich eastern DR Congo since the M23 launched its rebellion in April 2012.
Like Rwanda's leadership, the group mostly comes from the Tutsi community.
But Rwanda denies backing the rebels.
The UN has given residents of the main city in eastern DR Congo, Goma, until 1400 GMT on Thursday to disarm, warning force will be used if they fail to do so.
A new 3,000-strong UN intervention brigade is in the area to tackle various rebels, including the M23.
The four deserters, who included a man who described himself a captain in the Rwandan army, spoke to the BBC on condition of anonymity.
He deserted after seeing many innocent people die, the man said.
He described Rwanda's President Paul Kagame as the commander-in-chief of the M23.
"Whatever he says has to be done," he said.
Mr Kagame's spokeswoman Yolande Makolo dismissed the allegations as nonsense.
"We need to stop the cycle of rumours, propaganda and blame and get on with the business of building enduring peace," she said.
Another deserter, who described himself as a medical student, told the BBC he was "kidnapped" by soldiers in the border town of Gisenyi in August 2012, and taken across the border where he treated more than 300 fellow recruits wounded in fighting.
"They took them to the frontline before finishing their training," he said.
Rwandan military spokesman Joseph Nzabamwita said he could only comment if the BBC divulged the names of their sources, adding the men must have manufactured the stories to claim asylum.
New York-based pressure group Human Rights Watch (HRW) researcher Carina Tarstaskian said HRW had received similar reports to those of the BBC.
M23 deserters told HRW that Rwandan officers provided them with military training in eastern DR Congo, she said.
HRW was also aware of several Rwandan children who were approached by civilians with the promise of jobs in eastern DR Congo, only to be recruited into M23, Ms Tarstaskian said.