Radio Okapi | Published on February 26, 2014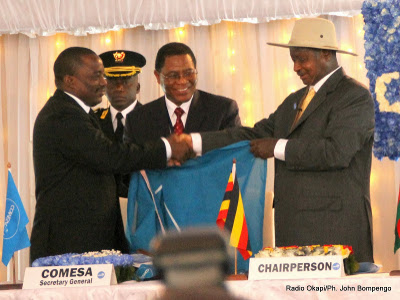 President Yoweri Museveni of Uganda hands over the chairmanship of COMESA to President Joseph Kabila of DR Congo |
Enlarge
DR Congo's President Joseph Kabila took the chairmanship of the Common Market for Eastern and Southern Africa (COMESA) on Wednesday at the opening of the 17th Summit of Heads of State and Government of the organization in Kinshasa.
"After 20 years of growth characterized by an exemplary dynamism, COMESA has become a powerful tool for promoting the development of its member states as well as the integration of their economies," Mr. Kabila said.
He praised the organization as "the largest free trade area in Africa", while acknowledging that the level of trade between the member states remains weak. But he said there had been "remarkable progress" in trade. "Over the last decade, our trade has increased by 600%. These exchanges could grow even more if we consolidate these achievements and complete the ongoing reforms," Mr. Kabila said.
During his speech, he also raised the issue of project funding. He said that member states should fund their projects themselves. "Today, the majority of funding for our projects comes from external partners. This situation can no longer last without jeopardizing our independence, our ability to decide, our future and the very existence of our organization," he said.
Mr. Kabila is succeeding Ugandan President Yoweri Museveni as the chairman of COMESA.
In his speech, Mr. Museveni appealed for the financing of infrastructure projects in the region.
While welcoming the help of foreign countries, he said that each country should finance its own projects, inviting member states to follow the examples of China and India.
Yoweri Museveni also called for the transformation of mineral and oil resources as well as agricultural production in producer countries before they are exported. He lamented the export of these products in raw state, which explained that the British companies sold coffee at a price 10 times more than what they buy it for in Uganda.
The COMESA Authority Summit of Heads of State and Government will close on Thursday. The Heads of State of Sudan, Uganda, Malawi, Zimbabwe, Zambia and Djibouti, along with envoys from other countries, are attending the summit.