Radio Okapi | Published on August 31, 2013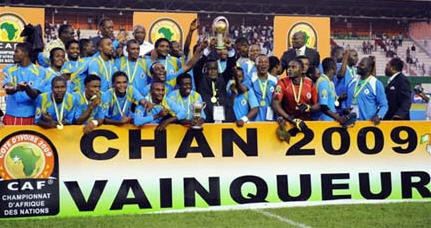 The Leopards won the first CHAN in 2009
DR Congo qualified for the third African Nations Championship on Friday, after a 1-1 draw against Cameroon in the second leg round of qualifying phase. The game was held at Mazembe's Kamalondo stadium in Lubumbashi.
The Congolese dominated the match from the start. The scorer in the first leg in Garoua, Mubele Ndombe (64'), missed twice to score (7 'and 11'), before hitting the corner that found Ebunga Nsimbi (31'), who scored the first goal for the Congolese. The score remained 1-0 until the break.
But 15 minutes after the break, Cameroon exploited a flaw in the Congolese defense and scored. The game ended 1-1. The DRC advances after winning 2-1 on aggregate.
DR Congo won the first edition of the African Nations Championship, which was held in 2009.
DRC becomes the 15th country to qualify for this tournament reserved only to players in African leagues.
The tournament is scheduled for January 11 to February 1, 2014. The draw for the third CHAN will be held on September 16 in Cairo, Egypt.
The other 15 countries that have qualified are:
   1. Burkina Faso
   2. Burundi
   3. Congo - Brazzaville
   4. Ethiopia
   5. Ghana
   6. Libya
   7. Mali
   8. Mauritania
   9. Morocco
  10. Nigeria
  11. Uganda
  12. Gabon
  13. Zimbabwe
14. Mozambique 
15. South Africa (host country).