Congo News Agency | Published on October 19, 2013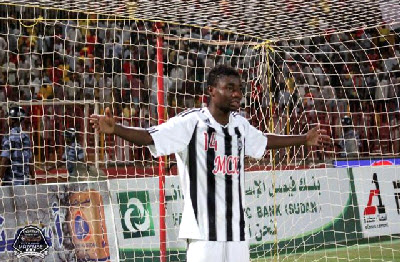 Nathan Sinkala celebrates after scoring a crucial goal for Mazembe against Al Merreikh in 2012 |
Enlarge
TP Mazembe will play for a continental title for the first time since winning consecutive Champions League titles in 2009 and 2010.
The Crows qualified for the final of the Orange CAF Confederation Cup on Saturday after they beat Stade Malien 1-0 in Lubumbashi.
Tresor Mputu converted a penalty kick early in the game to dash the hopes of the Malians, who started the game determined to recover from a 2-1 loss in Bamako during the first leg.
The goal meant they would need to score three goals without giving any away in order to advance, a tall order in a stadium where Mazembe have not lost this year in the Confederation Cup.
Missing three Zambian players in Rainford Kalaba, Stopilla Sunzu and Nathan Sinkala, Mazembe relied early on the constant threat paused by Ghanaian Solomon Asante upfront.
Zambia's government issued arrest warrants against the three players this week, accusing them of leaving the country illegally to return to their team in DR Congo.
The trio had been in Zambia to be checked by their national team's doctors because they said they were either sick or injured to play in an international friendly against Brazil in China.
But the players say they never left Zambia. After pleading with their government during the week to rescind the arrest warrants, they went to the border on Friday and asked to be allowed to cross back into DR Congo but they were denied passage by Zambian border officials and their passports were confiscated.
Zambian authorities had earlier said they would be arrested on sight. Zambian football officials have claimed that Mazembe did not release the players for the friendly against Brazil, thus the apparent retaliation to prevent them from returning to their club and potentially play in today's game against Stade Malien. They have called on world football body FIFA to "punish" Mazembe.
But Mazembe's chairman Moise Katumbi has told the BBC that the team did nothing wrong. Mazembe even charted a plane for the players to go to Zambia to be checked by doctors but they were never checked and were instead told that they must travel to China for the friendly.
Mazembe provided five players of the Zambian national team that won the Africa Cup of Nations in 2012.
Nevertheless, Mazembe's fans can rest assured and happy tonight knowing that this bizarre incident (to say the least) did not prevent their team from reaching the Confederation Cup final. Let's hope that Zambian officials will free the players soon and let them rejoin their teammates in Lubumbashi.