VOA News | Published on February 26, 2018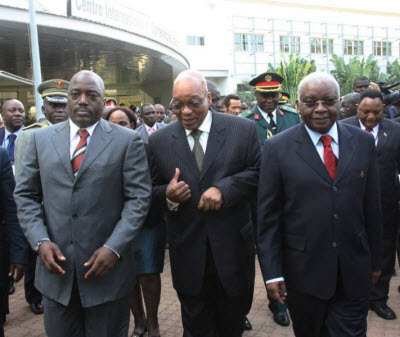 DR Congo President Joseph Kabila (L) walks alongside South Africa President Jacob Zuma (C), and Mozambique President Armando Guebuza during a lunch break at the SADC summit in Maputo on June 15, 2013 |
Enlarge
The southern African nation of Botswana has taken the unusual step of directly criticizing Congolese President Joseph Kabila, saying his refusal to hold long overdue elections is driving deadly violence and a growing humanitarian emergency in the Democratic Republic of Congo.
Botswana's Foreign Ministry declined VOA's request to elaborate on the statement, saying the words speak for themselves:
"Botswana urges the international community to put more pressure on the leadership in the Democratic Republic of Congo to relinquish power and pave way for the ushering in of a new political dispensation," the statement reads. It is seen as a strong shot across the bow for a president who has remained in office well past the end of his term in December 2016.
Kabila has repeatedly postponed elections in what critics see as an attempt to retain power. As a result, the nation has seen growing political unrest, some of it backed by the powerful Catholic Church. The most recent round of protests saw two demonstrators killed by security forces and the arrests of several protesting clergymen.
No comment
Congolese officials did not answer repeated calls seeking comment about recent political developments.
Calls to the Archdiocese of Kinshasa went unanswered and its website appears to have been suspended.
Congolese political analyst Claude Kabemba praised Botswana's bold statement.
"It's a brilliant position," he told VOA. "There is a consistency in Botswana's position about democracy on the continent. I think that call for President Joseph Kabila, identifying him as the major stumbling block and problem in the Congo, coming from a country that is a member of SADC … it's an important position to take in a region where countries seem to be, leaders, support each other and are afraid to criticize each other."
Changes in the neighborhood
That reluctance to criticize may be disappearing after the recent leadership changes in Angola and South Africa, says Congo analyst Ben Shepherd, of Chatham House, a London-based research institution. He notes that Botswana's statement hasn't drawn a reaction from its neighbors.
"I think part of the subtext of what is going on right now is that there is a new president in Angola, which is historically the DRC's most important regional ally/partner/policeman," he said. "The Ramaphosa government in South Africa probably heralds a new beginning in South African regional engagement, although obviously it remains to be seen what form that takes. Patience may be running somewhat thin over the political impasse that kept Kinshasa's politics from taking any steps forward of any description in recent years." Shepherd was referring to new South African President Cyril Ramaphosa.
Botswana, Shepherd says, also played a key role in mediating the end of Congo's last major war, and feels it needs to assert its moral authority to keep the southern African region stable.
Change from within this time?
But Kabemba says he doesn't think Kabila will give any serious thought to Botswana's statement - and, he says, that's fine with him. Ultimately, he says, while Botswana's support for democratic change is welcome, Congo's change needs to come from within.
"What we've seen with Congo is that, most of the time, the change of regime of presidents has been orchestrated by external factors.... And I think we need to avoid that, and to support the Catholic Church, anybody who wants to help. [The right thing], is to support the Catholic Church to support the opposition to President Kabila, so that the change comes from within Congo, rather than being propulsed from outside."
Still, he says, these words from Botswana matter. This is the second time the sparsely populated nation - which has just over 2 million people, compared to Congo's nearly 80 million - has spoken out against an entrenched leader in the region.
The last time was two days before Zimbabwean President Robert Mugabe, in power for 38 years, succumbed to pressure to tender his resignation.