MONUC | Published on December 13, 2007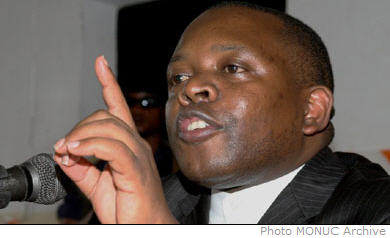 The Independent Electoral Commission (IEC) held an evaluation meeting with its NGO partners at its offices in Kinshasa on 12 December 2007, to assess the lessons learned from the 2006 elections, and to create a strategic framework for the holding of the DRC local, urban and municipal elections in 2008.

The meeting consisted of presentations, evaluations and an exchange of ideas on the successes and failings of the 2006 elections, with a particular focus on the civic and electoral education process.

IEC president Fr. Apollinaire Malu Malu explained that 'the work consists in evaluating the activities of civic and electoral education in the DRC, and to create a strategic framework of action and roadmap for national civic and electoral education."

"This work will start obviously at the level of each province and then we hope the results of the provinces will be consolidated at the national level. The work of evaluation is one aspect, strategic planning is another, and we hope that this strategic planning will be done in a participative way, so that everybody makes a contribution."

Fr. Malu Malu further explained that there are many challenges to be overcome, including the lack of an electoral culture, illiteracy and the isolation of certain areas of the country.

"It is not the work that is lacking in the creation of civic and electoral education. It is the coordination of this work, the synergy of actions and activities which we have to focus on."

Another area of evaluation is the active participation of women at all levels of the electoral process, especially the issue of elected women representatives.

"Hopefully we will be able to look at these figures and find a better strategy to increase the involvement of women at all levels of the elections, and not simply as electors, but in particular as electoral partner of the process," Fr. Malu Malu said.

"Evaluation goes hand in hand with looking towards the future. In particular, it is necessary to be concrete and practical because the population needs concrete and practical actions, and this is very important," Fr. Malu Malu concluded.