MONUC | Published on July 19, 2007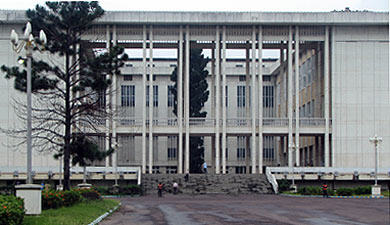 On Thursday 18 July 2007 the National Assembly closed the second extraordinary session at the "Palais de Pueple" in Kinshasa. On the agenda of its plenary session was the Special Commission's report on "the Kahemba affair"- the DRC's border dispute with Angola in Bandundu province- as well as the validation of the mandates of eighteen new deputies.

The National Assembly parliamentary commission's report established the existence of a true problem on Kahemba territory in the province of Bandundu, confirming that Congolese villages on the Angolan border are today "under the control of Angolan forces", and that local populations in certain areas are displaced.

As a consequence, these findings contradict that of the Joint Committee of government experts from Angola and the DRC, which stated that there had been no violation of DRC territory arising from the dispute.

Moreover, the Commission required the installation of another real and credible Joint Committee involving the DRC and Angola, in order to settle this frontier disagreement definitively, which could also profit from the assistance of former colonial powers Portugal and Belgium.

In addition, the plenary session validated the mandates of 18 candidates who replaced those whose mandates were invalidated last Tuesday 17 July 2007, following the verdict by the DRC Supreme Court of Justice.

Moreover, the second extraordinary session succeeded in proceeding with other sensitive files such as Bundu Dia Kongo, the budgetary law, the law regarding the statute of the opposition, and the law regarding the statute of the magistrate.

But there remains still the adoption of urgent laws such as the decentralisation law, the law on the National Independent Electoral Commission (CENI), and the law regarding the creation of the 'Conseil supérieur de l'audiovisuel' - a media watchdog commission.

The next ordinary session will commence on September 15, 2007, and is scheduled to run until 15 December 2007.