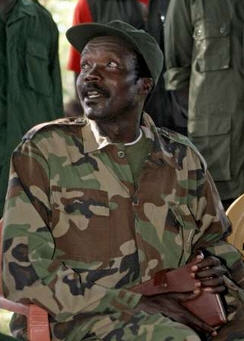 The Ugandan military said on Thursday that it is deploying more troops in northeastern Democratic Republic of Congo (DR Congo) to beef up an ongoing offensive against the rebel Lord's Resistance Army (LRA).
Capt. Chris Magezi, the spokesman for the operation launched on Sunday, told Xinhua by satellite telephone link from Dungu in northeastern DR Congo that some troops are already occupying the deserted rebel group's main camp.
He said more troops are being deployed in Garamba forest to hunt down the rebel group and its leader Joseph Kony.
"There is no more safe haven for Kony in Garamba," said Magezi, noting that the vast gardens found in rebel's main camp are being destroyed.
He said though there were no casualties found in the camps, there were traces of blood indicating that the dead or injured were carried away before the ground troops closed in.
"We are investigating to find out whether the dead were thrown in a nearby river," Magezi said.
Military forces from Uganda, southern Sudan and DR Congo on Sunday launched an aerial bombing on LRA camps, an offensive aimed at forcing Kony to sign the Final Peace Agreement the rebel group negotiated with government for over two years.
The LRA insurgency, one of Africa's longest running conflicts, has wreaked havoc in northern Uganda, southern Sudan, DR Congo and the Central African Republic and has killed tens of thousands of people and left some 2 million people homeless in northern Uganda.
LRA has more recently targeted towns and villages in the DR Congo and the Central African Republic, abducting hundreds of local residents this year to forcefully recruit them into the rebel group.