UN News Service | Published on December 01, 2010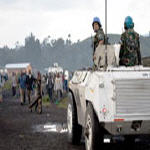 The United Nations peacekeeping mission in the Democratic Republic of the Congo (DRC) has deployed troops as a preventive measure in Orientale Province ahead of the end-of-year holiday season, which has in the past seen increased attacks by illegal armed groups.
Minor attacks by the brutal Ugandan rebel Lord's Resistance Army (LRA) were already reported last week from Nambia and Duru districts, the mission, known as MONUSCO, said at a news conference today in Kinshasa, the capital, announcing the operation Rudia Umbrella.
"The operation consists of increased vigilance through the preventive deployment of troops in certain sensitive areas, intensified patrols and the adoption of a deterrent posture," MONUSCO spokesman Madnodje Mounoubai told reporters.
Another UN operation, Protection Shield, carried out in cooperation with the DRC army in South Kivu province, has achieved "a notable success," as shown by a sharp decrease in violence from the rebel Democratic Forces for the Liberation of Rwanda (FDLR), he said. Three rebels surrendered and seven machineguns were recovered.
Since 1999 and under various names, the UN mission, with over 19,000 uniformed personnel on the ground, has overseen the vast country's emergence from years of civil war and factional chaos, culminating most notably in 2006 with the first democratic elections in over four decades.
But fighting has continued in the east, where the bulk of UN forces are deployed.