Xinhua | Published on January 05, 2012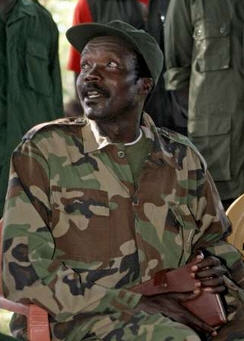 LRA leader Joseph Kony
A joint mission of the African Union (AU) and the United Nations has ended its visit to the Central African Republic, vowing "to act and ensure the eradication of the Lord's Resistance Army (LRA)."
The "urgent need to finish LRA" was voiced by the head of the UN Regional Bureau for Central Africa (UNOCA), Abou Moussa, and the AU special envoy on the issue of LRA, Francisco Madeira, at the end of their three-day visit to the Central African Republic, which is one of the countries suffering LRA atrocities in decades.
Both officials said the Ugandan rebel group "should be eradicated in the course of the year 2012."
Madeira said it was "necessary to immediately put in place all structures that had been envisioned by the AU's Regional Cooperation Initiative against LRA (ICR-LRA)."
He said this will mean that in the next two months, the regional intervention force, the joint operation center, as well as a joint coordination mechanism should all be operational.
The representatives of the UN and the AU praised the Central African Republic for identifying officers to serve in the ICR-LRA force.
They took note of the difficulties in which the Central African Republic's Armed Forces (FACA) encounters every day in their fight against the rebel group.
The two officials promised to seek aid from the international community, particularly from the U.S. Embassy, the European Union and the French Embassy to the African initiatives in the crusade against the LRA.
The joint mission left Bangui on Wednesday morning for South Sudan, from where they will proceed to Uganda and later the Democratic Republic of Congo. The four countries have been affected by the LRA led by Joseph Kony.