Congo News Agency | Published on October 30, 2013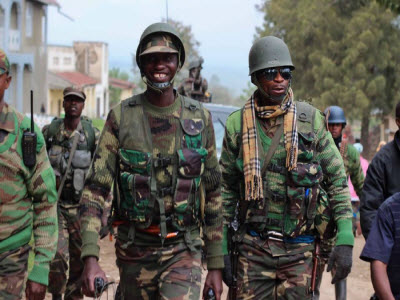 The commander of DR Congo's army operations against the M23 rebels in North Kivu province, Colonel Mamadou Mustafa Ndala. |
Enlarge
DR Congo's army has recaptured Bunagana, the last major town that was still occupied by the M23 rebels in North Kivu province. The victory marks a turning point for eastern Congo, which has been plagued by unrest for more than a decade.
To stress the importance of the moment, President Joseph Kabila took to the airwaves tonight to congratulate the Congolese Armed Forces, known as the FARDC, for liberating "most regions of North Kivu that had been under the control of the enemies of peace for 19 months."
"Kibumba, Rutshuru, Rumangabo, and since the last few hours Bunagana, are again under the administration of the legally established political and administrative authorities," Mr. Kabila said in a speech to the nation broadcasted on national television.
Mr. Kabila said that the offensive, which began last Friday, "was ordered after a long series of harassments against [FARDC] positions and cities with high population concentrations."
In a span of just five days, the Congolese army has all but liberated the entire territory of North Kivu province from the M23 rebels. A few rebels remain holed up in the hills of Chanzu, Mbuzi and Runyoni near the Ugandan border. The Congolese army was advancing towards them tonight.
In his speech, Mr. Kabila called on neighboring countries to abide by the UN and African Union-brokered Addis Ababa Framework Agreement, which calls on all countries of the Great Lakes region to stop supporting armed groups in neighboring countries.
He warned other foreign armed groups operating in eastern Congo, namely the FDLR, ADF-NALU, LRA and FNL, to "lay down their arms and end their abuses on the Congolese people." Failing to do so, he said, will expose them to "an operation to forcefully disarm them like the one that is currently underway."
Mr. Kabila also thanked the peacekeepers of the UN mission in DR Congo, known as MONUSCO, for supporting the Congolese army.
He honored the memory of the three Tanzanian peacekeepers who lost their lives and other peacekeepers who were injured. "Through my voice, the Congolese nation as a whole expresses its gratitude," he said.
"Having suffered from war, we, Congolese, know the price of peace. So, let's grasp the opportunity presented by the latest developments in North Kivu to strengthen national unity and rebuild as one our beautiful and beloved country."