XINHUA | Published on February 22, 2009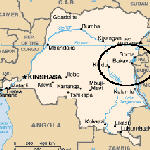 Rwanda, Uganda and southern Sudan will withdraw their troops from the Democratic Republic of Congo (DR Congo) next week after joint operations against insurgency in the war-torn central African country, the government announced here on Saturday.
Communication Minister Lambert Mende told reporters that Rwandan troops are set to leave on Feb. 25 and Ugandan and Sudanese soldiers on Feb. 28, adding a solemn ceremony will be held in their honor before departure.
This is the first time that the government has given a definite date for the pullout of foreign troops from its territory, although officials have repeatedly said they want them out by the end of the month among the jittering of Congolese.
Mende praised the three-nation cooperation against their common enemies, saying coalition forces have neutralized 90 percent of the Democratic Forces for the Liberation of Rwanda ( FDLR) in the eastern province of North Kivu and 80 percent of the Lord's Resistance Army (LRA) in Orientale Province.
FDLR is the Rwandan Hutu rebel group linked to the 1994 Massacre in Rwanda. It has been a root cause of DR Congo's internal conflicts and external tensions with Rwanda since its elements fled into North Kivu.
LRA, the notorious Ugandan rebel group, has been holed up in DR Congo in recent years. It has waged one of the longest guerrilla wars in Africa since 1986, roaming between Uganda, Sudan, DR Congo and Central African Republic.
The rebel presence led to hostilities in the 1990s among DR Congo, Rwanda, Uganda and southern Sudan, with diplomatic ties severed in the height of mutual accusations of backing rebels.
Pushed by African leaders, those countries decided to join hands in December to uproot their common trouble makers. DR Congo invited Ugandan and southern Sudan to join a military operation against LRA, and then Rwanda against FDLR, respectively in the past two months.
The joint operations proved an effective way in both curbing insurgency and improving relations, although the attacks also sparked a backlash of civilian killings by rebels in eastern Congo.
Mende said LRA leader Joseph Kony has gone into hiding in forests near the border with southern Sudan. Kony's men are accused of killing hundreds of civilians since his main camp in the Garamba national park in Orientale was destroyed by coalition forces.
FDLR remnants fled into bush under attack in North Kivu, with its commander Ignace Murwanashyaka appealing for talks and Rwandan Hutus beginning to leave DR Congo for their home country on the voluntary basis.
Officials have expressed confidence that the government forces and the UN peacekeeping mission in the country will be able to curb rebels after foreign troops withdraw.
Congolese and Rwandan diplomats have also demonstrated desire to resume diplomatic ties after years of chill.
The joint military actions have dramatically defused tensions in the Great Lakes region, where countries were highly wary of the rise of renegade Tutsi general Laurent Nkunda, whose National Council for the Defense of the People (CNDP) captured large swaths in North Kivu in months of advance and threatened to topple the whole situation.
Nkunda was arrested on Jan. 22 in Rwanda after fleeing an attack by coalition forces and his CNDP is already in the process of being reintegrated into the national army of defense, to the relief of world leaders trying to block another Congo war.
DR Congo, which won independence from Belgium in 1960, has suffered two civil wars since the 1990s. The 1998-2003 Congo war sucked in several countries in the Great Lakes region, including Angola, Zimbabwe, Rwanda and Uganda. More than 5 million people died in the bloodshed.
The flare-up ignited by Nkunda in late August has displaced an estimated 250,000 people, adding to 800,000 others already rendered homeless in previous conflicts in North Kivu.