VOA News | Published on August 15, 2014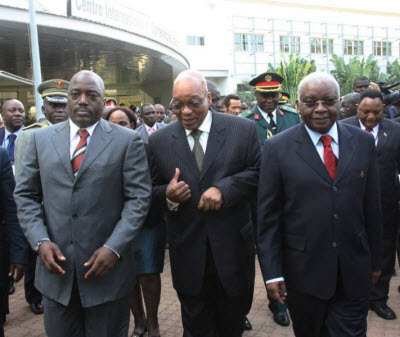 DR Congo President Joseph Kabila (L) walks alongside South Africa President Jacob Zuma (C), and Mozambique President Armando Guebuza during a lunch break at the SADC summit in Maputo on June 15, 2013 |
Enlarge
Preparations are almost complete ahead of the Southern African Development Community's (SADC) heads of state summit scheduled next week in Zimbabwe, according to Tanki Mothae, SADC Director of Politics, Defense and Security Cooperation.
He said the leaders will discuss deepening bilateral relations between member states. Peace and security issues are also on the agenda, topped by the Democratic Republic of Congo (DRC) where various rebel groups often attack unarmed civilians.
Mothae said the regional bloc has partnered with the United Nations Mission to Congo (MONUSCO) to help defeat the armed groups. He says SADC is pleased with its efforts to ensure peace in the region.
"We are working very hard to ensure that SADC remains stable," said Mothae. "We are dealing with the security issues in the DRC. SADC is continuously participating with the international community in defeating the Democratic Forces for the Liberation of Rwanda [FDLR], which continues to disarm."
He said elections recently held in member countries have been peaceful and without violence as observed by SADC regional election monitoring teams.
"We recently completed elections in Madagascar, we had elections in South Africa in May and another election in Malawi where the incumbent president lost and there was a very peaceful transition from the other government to the new government," said Mothae. "We are now preparing for elections in Mozambique, then the next elections will be in Botswana then we have elections in Namibia."
Critics say the regional bloc failed to ensure credible elections in disputed elections in both Zimbabwe and Malawi, where oppositions groups rejected the outcome of the votes. But Mothae disagreed.
"Whoever wishes SADC to be unstable that is the person who can say that. SADC as an organization has been part of the [electoral] processes not even the Malawian citizens or even the Zimbabwe citizens are complaining about the electoral processes," he said.