BBC News | Published on October 04, 2009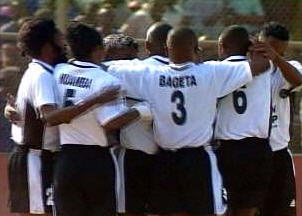 DR Congo's TP Mazembe and Heartland of Nigeria look well on course to contest this year's African Champions League final after their respective thrashings of Al Hilal of Sudan and Nigeria's Kano Pillars in the semi-final first legs.
Al Hilal were favourites as they hosted TP Mazembe in Omdurman.
They showed they meant business when Demba Barry opened the scoring for the hosts in the second minute.
But a mere three minutes later, Basisila Lusadisu made it 1-1 for the visitors.
The game was then suspended for 20 minutes as floodlights failed due to a power cut.
After the resumption, Haycem Mustapha converted a penalty to put Al Hilal 2-1 up halfway through the first half.
In a repeat of the opening minutes of the game, TP Mazembe struck back five minutes later through Mulota Kabangu to make the game 2-2.
Dioko Kaliyutuka made in three for Mazembe in the 62nd minute.
And ten minutes from time, Kabangu scored his second goal of the evening from the penalty spot.
For good measure, Lusadisu scored in the dying moments of the game to give Mazembe an emphatic 5-2 away victory.
Mazembe will host Al Hilal in the return leg in Lubumbashi on 18 October.
There was another eventful semi-final in Owerri where Nigeria's Heartland thrashed their domestic rivals Kano Pillars 4-0.
All four goals came in a lively first half, with Emeka Nwana and Uche Agba both scoring braces in front of a capacity crowd at the Dan Anyiam Stadium in Owerri.
Nwana opened the scoring in the 14th minute, Agba made it 2-0 just four minutes later.
Nwana and Agba scored again for Heartland in the run-up to half-time to sap the spirit of Kano Pillars.
The second half had none of the excitement of the first 45 minutes, with Kano Pillars seeming to have given up.
It will be Kano's turn to host Heartland in the return leg in just a week's time on 10 October.
The date has been brought forward because Kano Pillars' stadium will be used in the Under-17 World Cup which begins on 24 October.