VOA News | Published on January 07, 2007
Bavier report - Download 163k


Listen to Bavier report

Recovery efforts have been suspended near the town of Tshikapa in the Democratic Republic of Congo, following a cave-in at a pit mine Friday. Local officials in Western Kasai province say at least 13 people digging for diamonds were killed. Joe Bavier has more for VOA from the capital, Kinshasa.
The mayor of Tshikapa, Albert Mutombo, said Sunday that efforts to recover bodies at an open pit mine on the outskirts of the town were being suspended until Monday.
Thirteen bodies were recovered during an initial rescue and recovery operation organized in the hours after the accident early Friday. Local residents worked until nightfall trying to save those buried. Three people working in the 15 meter-deep trench survived.
No more survivors or bodies were found in rescue efforts on Saturday, but Mutombo said it is difficult to know how many people were working in the mine at the time of the accident. More victims, he said, might still be buried in the pit.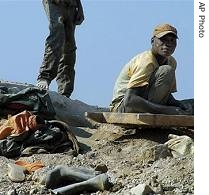 Miners handle stones on a hilltop of Mbola mines in Democratic Republic of Congo (File photo)

Mineral-rich Democratic Republic of Congo has been ravaged by decades of mismanagement and a five-year civil war that killed some four million people, mostly from hunger and disease worsened by the fighting.

Most mining infrastructure has been pillaged or destroyed.

Primitive pit mining is often one of the few ways impoverished Congolese can make a living, and cave-ins are frequent.

Local officials blamed recent heavy rains for saturating the ground around mines, increasing the risk of cave-ins