Radio Okapi | Published on July 29, 2010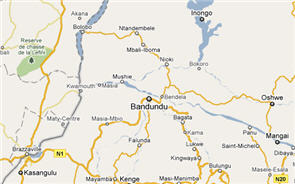 At least 138 people are dead after a boat sunk on the Kasai River on Wednesday in Bandundu province.
Officials said the boat was headed to Kinshasa and the accident happened near the village of Lingala, downstream the Kasai River — a tributary of the Congo River — near the city of Kwamouth.
The provincial Chief Inspector of the Police, Colonel Jolly Limengo, gave the provisional toll of 138 deaths, based on information received from the commander of the Plateau district police. An investigation has been opened by the local police.
Colonel Limengo said that the boat may have been overloaded and was shaken by a wind turbulence when it capsized.