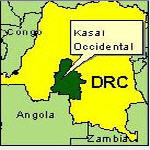 At least 160 people have died in an outbreak of the highly lethal haemorrhagic Ebola virus in the centre of the Democratic Republic of the Congo (DRC), the United Nations World Health Organization (WHO) reported today, announcing that it is rushing medical and supplies to the region to try to contain the disease.
Laboratory analysis conducted in Gabon and the United States on samples taken from cases in the outbreak have confirmed the presence of the Ebola virus, which causes death in 50 to 90 per cent of cases.
WHO said some of the samples also show the presence of Shigella dysentery, which is complicating the treatment of victims, who are concentrated in the Mweka and Lwebo areas of DRC's Kasai Occidental province. It is not clear yet how many deaths were caused by Ebola given the apparent simultaneous outbreak of the diseases.
So far there have been 372 confirmed cases and 166 deaths, according to WHO, while Radio Okapi - which is part-operated by the UN peacekeeping mission in the DRC (MONUC) - reported today that there have been 168 deaths.
DRC health ministry officials are leading the response to the outbreak, but WHO said it was providing staff, supplies and equipment to the areas affected and it was also mobilizing a team of national and international experts to implement strategies to try to limit the size of the outbreak.
The Ebola virus is transmitted by direct contact with the blood, secretions, organs or other bodily fluids of infected persons or animals such as chimpanzees, gorillas, monkeys and antelopes, and it has an incubation period of two to 21 days.
Health-care workers have frequently been infected while treating sufferers because of the lack of adequate infection control precautions in affected countries in Central Africa. Burial ceremonies also can play a role in transmitting the virus when mourners have direct contact with the body of the deceased person.
Sufferers can experience fever, intense weakness, muscle pain, headaches and sore throats, as well as vomiting, diarrhoea, rashes and impaired kidney and liver function. In the most severe cases, the virus can lead to both external and internal bleeding.
WHO said there is no indication yet of any need to impose trade or travel restrictions with the DRC as a result of the outbreak.