Congo News Agency | Published on February 12, 2012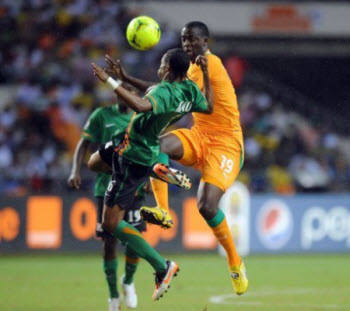 Zambia beat Ivory Coast to win the Africa Cup of Nations (Photo/cafonline.com) |
Enlarge
Zambia has won the Africa Cup of Nations by beating favorites Ivory Coast 8-7 on penalties to bring the trophy back to Southern Africa sixteen years after South Africa won the premier continental football championship.
After Kolo Toure missed his penalty kick, TP Mazembe's Rainford Kalaba could have won a place in history by scoring the next one but was also off target. Gervinho then missed the next kick for the Elephants, leaving it to another TP Mazembe player, Stopilla Sunzu, to send the Chipolopolo into football heaven.
The win comes 19 years after Zambia lost most of its players in a plane crash on April 27, 1993, off the coast of Gabon, which was co-hosting the tournament with another Central African country, Equatorial Guinea. Most spectators in the Stade d'Angondje in Libreville, and maybe destiny, seemed on the side of coach Herve Renard's men.
The game was full of suspense and drama.  Zambia dominated the Ivorians in the first half with Kalaba playing a key role in the midfield and Katongo, Mayuka, Chansa and Sinkala threatening in the back on several occasions.
The Elephants came back attacking in the second half. They had their best chance in the 69th minute when Chelsea striker Dider Drogba missed a spot-kick by sending the ball over the cross bar.
By missing free-kicks, Drogba, Toure (Manchester City) and Gervhino (Arsenal), amongst the best players for Ivory Coast and all playing outside the continent in Europe in the English Premier League, ended up costing the Elephants a chance to win the Cup for the first time in 20 years. Gervhino and Toure seemed to argue who should take the next kick before Toure finally went first and both missed.
Zambia, a surprise finalist, mostly featured players playing in Africa, including four currently playing for DR Congo's top club TP Mazembe – Rainford Kalaba, Stopilla Sunzu, Francis Kasonde and Hichani Himoonde.