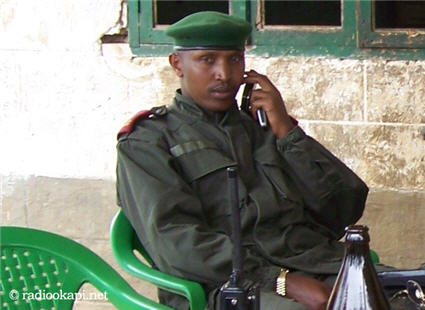 Bosco Ntaganda
The Congolese government said on Thursday that "irregular troop movements" have been observed in North and South Kivu provinces since last weekend.
In a statement released to the press, interim Information Minister and government spokesman Muyej Mangeze said that "undisciplined troops had erected barricades unauthorized by the military hierarchy, thereby disrupting public order and the tranquility of the population in some places."
The government said it was following the situation "very closely" and called on those responsible to "refrain from acts that could expose them to the rigors of justice, both nationally and internationally."
Although not named directly in the statement, the troops are said to be under the command of General Bosco Ntaganda, a former CNDP rebel leader who was integrated into the Congolese Armed Forces as part of a peace deal.
A former member of the Rwandan army, Bosco Ntaganda became the commander of the CNDP rebel group after Congolese and Rwandan authorities struck a deal that led to the arrest of warlord Laurent Nkunda in 2009. Rwanda is known to have supported the CNDP in its proxy fight against the Rwandan FDLR rebels based in eastern Congo.
Bosco Ntaganda, also known as "The Terminator", was indicted by the International Criminal Court in 2006. The ICC said there were reasonable grounds to believe he used child soliders in the Ituri conflict, in north-eastern DR Congo, as a commander in the FPLC milita group between 2002 and 2003.
The troop movements are believed to be a show of force by General Ntaganda amid renewed calls for his arrest after his former boss in the FPLC, Thomas Lubanga, was convicted by the ICC on March 14. Former CNDP rebels integrated into the Congolese army are said to have left their units, taking ammunition and other military equipments with them.
Accused of supporting impunity, the Congolese government has argued that it has cooperated with the ICC by arresting and sending Thomas Lubanga, Mathieu Ngudjolo and Germain Katanga to the court. It has so far resisted arresting Bosco Ntaganda, saying his arrest may cause more harm than good.
President Joseph Kabila said during a news conference last October that in Ntaganda's case, peace trumpets all other considerations.