Kennedy Gondwe/BBC Sport | Published on April 15, 2013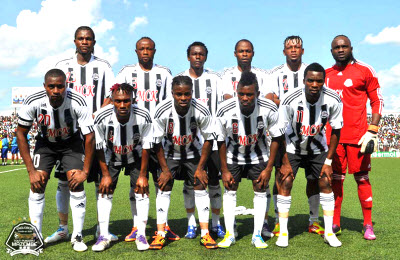 It may be too early to start counting their chickens but Democratic Republic of Congo giants TP Mazembe look like a team that will yet again pose a threat in this year's African Champions League.
The four-time African club champions have recruited one Ugandan, a Zambian, five Ghanaian and three Malian players as they aim to conquer the continent again this year.
The overhauling of the squad has seen new arrivals in almost every department, except the goalkeeping area that will still be anchored by Congolese international Muteba Kidiaba.
Continue reading the main story
Ghanaian defenders Yaw Frimpong and Richard Boateng have taken up the space left by Congolese Pamphile Mihayo and Kasongo Ngandu who have been dispatched to the coaching bench of Mazembe's sister club Don Bosco.
In the middle of the park, Congolese midfielder Guy Lusadisu retired and new recruits Malian Alou Bagayoko, Ghanaians Gladson Awoko and Daniel Adje Nii and Uganda Mike Mutyaba will compete for places.
The striking department has seen the arrival of Zambian Jonas Sakuwaha, Malians Diarra Boubacar and Ousmane Cisse and Salomon Asante from Ghana.
However, some of the new recruits have been loaned to Don Bosco.
"Defensively, TP now has more options," club owner Moise Katumbi told BBC Sport.
"On the right and left flanks, Kasusula [Jean] and Nkulukuta [Eric] are both over 30 years and the team needed some players who could play straight away hence the arrival of the Ghanaians.
"In the middle we needed more variation and creativity, while up front we lacked height, so we have brought in new players to offer us aerial threat and physical stature."
Katumbi believes that with the new recruits Mazembe can now effectively rotate their squad to cope with the demands of local and international fixtures.
It is a statement of intent that is already bearing fruit for a team that reached the semi-final stage of the competition last year.
Mazembe, who are based in the mineral-rich Katanga province, last weekend demolished Botswana side Mochudi Centre Chiefs 6-0 to qualify to the next round of the competition via a 7-0 aggregate victory.
"We are re-building the team," added Katumbi. "Building a team sometimes takes a long time but we hope we can get better and better.
Continue reading the main story
"I am somebody who doesn't get carried away easily with the result of a match. We still have a lot of work to do."
The players are also aware that with increased competition, they have to up their game to consistently make it into the starting line-up.
"The competition is good and we think we can win the Champions League this year," says Zambian striker Given Singuluma.
Andre Mtine, a member of the TP scouting network, thinks the arrival of the new players, especially the Ghanaians, will add a different dimension to the team.
He is particularly happy that this year Mazembe have a blend of both young and experienced players.
"The Ghanaians have very good temperament and are focused," he says.
"The pan-African nature of the team is a big plus to the team because every player is competing for places regardless of where they come from.
"The non-Congolese players know they are being paid because they have a job to do while the Congolese understand there is competition if they are to be selected to play."
Mazembe's victory against Chiefs last weekend has booked them a glamour tie with South African side Orlando Pirates, who boasts the likes of Uefa Champions league winner Benni McCarthy.
But Mazembe, who in 2010 made history by becoming the first African side to reach the final of the World Club Championships, are not scared to face Pirates.
"Every president of a club, just like myself, is expecting their team to do better this year but we are determined to bring joy to Congo and Africa this year," Katumbi said.
"Orlando Pirates is a good team and I have a lot of respect for them.
"Pirates are a very good side with a lot of players that have played in Europe but our team is also determined to show what local African players can do."
TP Mazembe beat Botswana's Mochudi Chiefs FC 6-0 on 4.7.2013