Congo News Agency | Published on July 23, 2013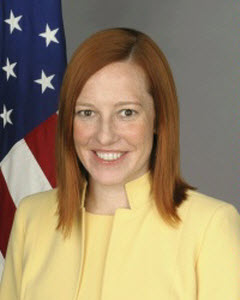 U.S. State Department spokeswoman Jen Psaki
The United States has called on Rwanda to stop all support to the M23 rebels a day after Human Rights Watch published new evidence that Rwanda continues to support the rebels in their campaign of terror across the border in eastern Congo.
"We call upon Rwanda to immediately end any support for the M23 (and) withdraw military personnel from eastern DRC," U.S. State Department spokeswoman Jen Psaki said.
She declined to say whether she was specifically addressing Rwandan President Paul Kagame, a U.S. ally in the Great Lakes region who has become an embarrassment for the United States as more and more evidence of his support to rebel groups in eastern Congo for over a decade piles up.
Human Rights Watch said in a report released on Monday that Rwanda-backed "M23 rebels have summarily executed at least 44 people and raped at least 61 women and girls since March 2013 in eastern Democratic Republic of Congo."
The report is only the latest from rights groups and the United Nations Group of Experts monitoring the situation in eastern Congo accusing senior officials in the Rwandan army, including Rwandan Defense Minister James Kabarebe, of providing the M23 rebels with men, arms and ammunition.
The Rwandan government scrambled on Tuesday to try to discredit the evidence provided by Human Rights Watch because of the erroneous testimony of one witness that was included in the report. The rights group acknowledged the error but said it stands by its report.
Ms. Psaki said that the U.S.  believes "there is a credible body of evidence that supports the key findings of the Human Rights Watch report, including support by senior Rwandan officials to the M23 and of Rwandan military personnel in the D.R.C."
U.S. Secretary of State John Kerry will chair a ministerial meeting of the U.N. Security Council on Thursday that will focus on the Great Lakes region and the situation in eastern Congo.