Radio Okapi | Published on January 19, 2019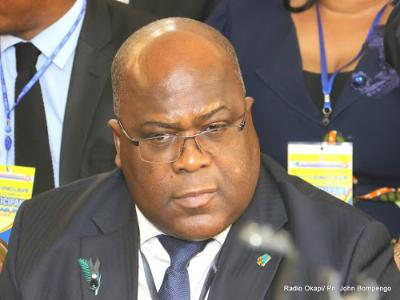 The Constitutional Court has confirmed the results published by the Independent National Electoral Commission proclaiming Felix Tshisekedi president of the Democratic Republic of Congo.
The Constitutional Court had analyzed two appeals introduced by Martin Fayulu and Theodore Ngoyi challenging the provisional results published last week by the INEC.
In his petition, Mr. Fayulu had asked for the annulment of the provisional results, a manual recount of the votes, and the review of the data collected by the electoral observers from the National Episcopal Conference of Congo (CENCO) and others, who said that Martin Fayulu was the actual winner of the presidential election.
Mr. Fayulu had also said that the INEC had violated the constitution by excluding four constituencies from the provinces of North Kivu (Beni and Butembo) and Maï-Ndombe (Yumbi) representing 1,359,000 voters. 
He requested that the INEC be ordered to organize the elections in those areas within two weeks, and postpone the publication of the results pending the results from the excluded constituencies.
The Constitutional Court rejected Mr. Fayulu's demands, saying that he had either not provided evidence for the allegations of fraud he had raised, or that the INEC was in its right to cancel the elections in Beni, Butembo and Yumbi. The Constitutional Court rejected a recount of the votes, and also rejected the annulment of the elections, saying that the elections were done in a regular manner.
With the proclamation of the final results of the presidential election by the Constitutional Court, Felix Tshisekedi is thus elected president of the Democratif Republic of Congo by a simple majority for a 5-year term. He will become the fifth president of the DRC. He will succeed Joseph Kabila, who has been in power since January 26, 2001.
The next step on the updated INEC's electoral calendar is for the new president to take the oath of office on January 22. This will be the first peaceful transfer of power in DR Congo.