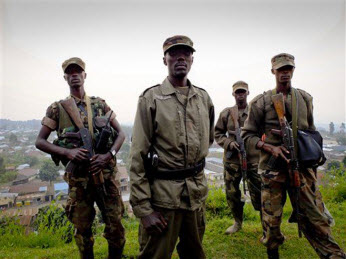 Sultani Makenga, center, a senior M23 leader, was sanctioned by the U.S. on 11.13.2012 |
Enlarge
U.S. authorities announced on Thursday that they have sanctioned Rwanda over the recruitment of child soldiers by the M23 rebels operating in the eastern Democratic Republic of Congo.  The United Nations and rights groups have accused Kigali of supporting the rebels, which Rwanda denies.
"Under the Child Soldiers Prevention Act, we have just announced those countries that are being sanctioned under that act, and Rwanda is one of those countries," said the new Assistant Secretary of State for Africa, Linda Thomas-Greenfield.
"Our goal is to work with countries that have been listed to ensure that any involvement in child soldiers, any involvement in the recruitment of child soldiers, must stop. In this case, it was related to M23, and we will continue to have discussions with the Rwandan government on that issue."
State Department deputy spokesperson Marie Harf said that Rwanda was sanctioned because of its "support for the M23, a rebel group which continues to actively recruit and abduct children" and to threaten the stability of DRC.
A senior State Department official revealed that the sanctions against Rwanda would "stop any assistance in terms of military education and training for the fiscal year in 2014."
In June, the former  Special Representative of the Secretary-General of the United Nations in the Democratic Republic of Congo, Roger Meece, and the Special Representative of the UN Secretary-General for Children in Armed Conflict, Leila Zerrougui, called on the M23 rebellion to stop using children in its ranks.
They said they were concerned about reports that at least 53 children were at risk of being re-recruited by the M23 in the territory of Nyiragongo, in North Kivu province. The 53 children were part of a group of at least 70 who have been recruited by the rebels in the territories of Rutshuru and Nyiragongo. The rebel movement immediately denied the charges.
In recent months, Washington has increasingly accused Kigali of being involved in the ongoing crisis in eastern DR Congo.
"We call upon Rwanda to immediately end any support for the M23 (and) withdraw military personnel from eastern DRC," U.S. State Department spokeswoman Jen Psaki said in July, without saying whether Rwandan President Paul Kagame was himself involved.
During a visit to Dar es Salaam, Tanzania, in July, U.S. President  Barack Obama  called on the countries bordering the DRC, without naming them, to stop supporting armed groups operating there.

Source: Radio Okapi