Radio Okapi | Published on December 02, 2013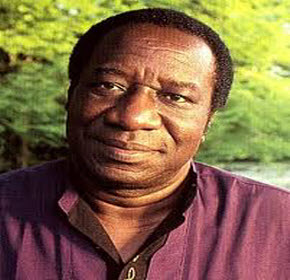 Congolese music giant Pascal Tabu Ley died on Saturday in Brussels, Belgium. He had been in a coma in a hospital for several days.
His son Charles Tabu told Radio Okapi that he died from complications from diabetes. He had suffered a stroke in 2009.
Considered one of the greatest Congolese musicians of all time, he pioneered the musical genre known as Congolese rumba.
Known to his fans worldwide as "Seigneur (Lord) Tabu Ley Rochereau", Pascal Tabu was born in Bagata, Bandundu, on November 13, 1940.
He first started singing in churches and then in school choirs. He would later join the Ministry of Education as public servant and then work as a financial officer at the Athénée de la Gombe.
Tabu Ley began his musical career in the 1950s. In 1956, he would sing with Grand Kalle, a musician and bandleader considered the father of modern Congolese music. This would mark the beginning of his huge success. He then took the stage name of Seigneur (Lord) Tabu Ley Rochereau.
Like his mentor, Rochereau and his band African Fiesta National brought a lot of innovations to the musical style known as the Congolese rumba. He is credited in particular with the adoption of drum sets, a trend that will be followed by other new bands such as Bella Bella of the Soki brothers.
Very influenced by the pop and Rhythm and blues music of the sixties and seventies, Rochereau did not hesitate to perform on stage with bell-bottom pants and an Afro hairstyle. He was the first African singer to perform at the Olympia.
Although a very good solo singer, Tabu Ley also had some pretty memorable duets with other singers with songs such as "Permission" and "Rendez-vous chez là bas" with Mujos, "Souza" and "Maguy" with Sam Mangwana, "Ki makango mpe libala", "Gipsy" with Ndombe Pepe, and Loyenge with M'Bilia Bel.
He retuned to Congo after Mobutu was deposed. In 2001 he became the vice-governor of Kinshasa, as a member of the RCD political party.
After the fall of Mobutu's regime, he returned to Congo and entered politics, while still pursuing his artistic activities. He was appointed a member of the Transitional Assembly and served in 2005 as vice-governor of the city of Kinshasa.
In 2012, while celebrating 72 years of age, Tabu Ley was decorated in Kinshasa by the Chancellor of the National Orders with two gold medals, the one for Civic Merit and the other arts, sciences and humanities, in recognition of his many artistic works that have enhanced the Congolese culture worldwide.
During his 46-year career, Tabu Ley composed over three thousand songs and sold thousands of records. Four of his sons, Pegguy Tabu, Abel Tabu, Philemon and popular rapper Youssoupha have launched music careers as singers and composers.
Here is one his songs: "Mokolo nakokufa" (The day I die).