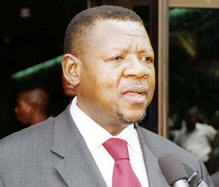 The Democratic Republic of Congo has criticised a Swiss court's decision to release the assets of its late ex-leader Mobutu Sese Seko to his family.
Information Minister Lambert Mende told the BBC that Switzerland had not done enough to ensure the money was given back to the people of DR Congo.
He said his country could not appeal because the legal process had ended.
The judgement released more than $6m (£3.7m) frozen in Swiss bank accounts to Mobutu's family.
Manketa Rostin of Congolese rights group Voice of the Voiceless told the BBC's Focus on Africa that the disputed millions should have been invested in DR Congo.
"We were expecting the money to be used for infrastructure here in Kinshasa because we have roads in a very bad state," he said.
The money, he argued, could have also been used to help victims of rape and other violence.
Mobutu, who died in 1997, governed DR Congo - then known as Zaire - for 32 years.
The anti-corruption watchdog Transparency International labels Mobutu as the third most corrupt leader of all time - behind Suharto of Indonesia and Ferdinand Marcos in the Philippines.
The group estimates that Mobutu stole almost half of the $12bn in aid money his country had received from the International Monetary Fund during his rule.
On Tuesday the Swiss court rejected an appeal to extend a freeze on his assets - ruling they should be returned to his family.