Congo News Agency | Published on November 28, 2012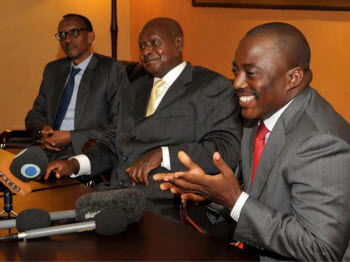 Presidents Joseph Kabila, Yoweri Museveni and Paul Kagame in Kampala, Uganda, last week |
Enlarge
The M23 rebels say they want to "liberate" DR Congo. They say they will take their fight thousands of miles westward to the capital Kinshasa if necessary. The claim would be laughable if the rebellion did not have such dire consequences on so many innocent civilians in eastern Congo.
The rebels said on Tuesday they may pull out of Goma by the end of this week, while making new demands before the pull-out that were quickly dismissed as a "farce" by the Congolese government.
Many analysts had predicted that taking Goma would be the easy part. Holding it, while capturing other cities all the way to Kinshasa, would be a daunting task. Just last week, the rebels lost the city of Sake, northwest of Goma, to a Congolese army counter-offensive before retaking it after receiving reinforcements.
Supported in men, weapons, and ammunition by Rwanda and Uganda, the rebels may easily defeat the Congolese army and UN peacekeepers in the regions close to the borders with those two neighboring countries, but they are not likely to win battles thousands of miles away, like in Kinshasa.
Unlike in 1996, when Rwanda and Uganda-backed rebels waged a war from South Kivu province all the way to Kinshasa, this time the rebels lack any kind of popular support. They have failed to convince the Congolese, the very people they claim they want to "liberate", that they embody any of their aspirations.
Even in 1997, when Rwanda-backed Laurent-Désiré Kabila overthrew Mobutu Sese Seko, he quickly realized that he would not be able to govern Congo while being seen as a puppet of Rwanda. When in 1998 he asked his Rwandan "friends" to leave, they launched a new rebellion against him but failed to retake power in Kinshasa.
Angola also sent troops to help the rebellion's westward expansion in 1997, which is unlikely this time.
Let's pretend, for the sake of argument, that the M23 rebels were somehow able to get to Kinshasa and overthrow President Joseph Kabila's government. Then what? Would the rebels then agree to hold new elections? No. They would certainly lose any new elections. No Rwanda-backed politician has received more than 1% in elections nationally. Not during the credible elections of 2006, nor the not so credible elections of 2011.
In reality, without public support, the best the rebels can hope for is that Mr. Kabila will agree to negotiate with them.
It can even be argued that Rwanda and Uganda have never had, and will likely never have, a better friend in power in Kinshasa than Mr. Kabila, who had spent time in Uganda before becoming president and even agreed to let Rwandan troops back in DR Congo for joint military operations against Rwandan FDLR rebels in 2009. Mr. Kabila even flew to Uganda for "negotiations" with President Yoweri Museveni and Rwanda's President Paul Kagame on Tuesday last week, the same day the rebels captured Goma, and remained in Kampala until Saturday.
The M23 want to overthrow Kabila? Nonsense. Be careful what you wish for. The likely winner of any new elections, which the Congolese opposition would quickly ask for if Mr. Kabila was overthrown by the M23 rebels, would most likely be Etienne Tshisekedi, the runner-up in the 2011 elections and a staunch nationalist. A President Tshisekedi in Kinshasa might very well be Mr. Kagame's worst nightmare.
Are the M23 rebels talking about overthrowing the same Mr. Kabila who allowed rebels from the CNDP, renamed the M23 this year, to become generals in the Congolese army after the March 23, 2009 peace accords? Mr. Kabila even let Bosco Ntaganda, who had been indicted by the International Criminal Court on war crimes charges in 2006, to become a general. Or is it the same Mr. Kabila whose father allowed current Rwanda's defense minister James Kabarebe to become the Army Chief of Staff in DR Congo in 1997? No kidding!
A UN Group of Experts report on DR Congo said last week that Mr. Kabarebe is the de facto commander of the M23 rebels.
The M23 rebels have claimed Mr. Kabila failed to implement the March 23 peace deal, thus their new rebellion. Really? The only thing Mr. Kabila has not given to Rwanda-backed rebels and politicians yet may be the presidency itself.
The biggest problem the rebels have is not Mr. Kabila, it's the Congolese population.
There has been no show of support for the M23 rebels since they mutinied in April, even in the regions they currently occupy. They have relied on forced recruitments and kidnappings to bolster their ranks. There have already been reports of summary executions in Goma since the rebels occupied the city last week.
No Congolese opposition leader has embraced the M23 political or military wings. To the contrary, opposition politicians have condemned the government for not being able to stop the rebels.
Most Congolese see the M23 as an occupation force meant to assert foreign control over the mineral resources of eastern Congo. Several protests have been held around DR Congo against the rebels. Thousands of people have fled each rebel advance. The UNHCR estimates that "there are more than 1.6 million internally displaced people in North and South Kivu, including 285,000 newly displaced between July and September."
Since last year, rebel movements have become popular in countries like Libya and Syria. Make no mistake about it; this is not a continuation of the "Arab Spring". The M23 are a brutal rebel force which has committed numerous war crimes against the very population they claim they want to "liberate".
Their leaders, Bosco Ntaganda and Sultani Makenga, are amongst Africa's most ruthless rebel leaders. Just two weeks ago, Makenga was sanctioned by the United States and the United Nations. Ntaganda, who has been nicknamed the Terminator by his victims, is wanted by the International Criminal Court on war crimes charges.
Apart from Rwanda and Uganda, the M23 rebels have also failed to get any kind of support in the international community. They may have won on the battlefield so far, but they have failed to win public opinion.
The M23 rebels may impose their will by force on the hundreds of thousands of innocent civilians who are suffering the most from this unnecessary war, but as long as they are controlled by foreign countries and serve foreign interests, they will never win the hearts of the Congolese.