Congo News Agency | Published on November 27, 2011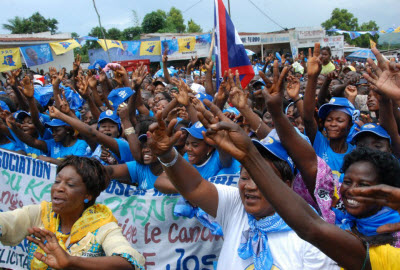 Kabila supporters during a camgaign stop in Mbuji Mayi |
Enlarge
More than 32 million Congolese voters are set to go to the polls on Monday to elect their president and national Members of Parliament for the next 5 years.
The Independent National Electoral Commission has said that the polls will go ahead as planned, despite violent clashes Saturday between supporters of the leading presidential candidates that led to the deaths of at least 4 people in Kinshasa.
Having won the first democratically held elections in the Democratic Republic of Congo in 2006, President Joseph Kabila is seeking a second term in office to consolidate the "gains" of the last five years.
Mr. Kabila has touted DR Congo's economic "progress" since the last elections, with the country showing a positive growth rates for the last two years, "despite a difficult international economic environment."
The ruling majority has also bragged about most of DR Congo's debt being cancelled by international donors earlier this year after the government met requirements under the International Monetary Fund's Heavily Indebted Poor Countries Initiative (HIPC).
During the campaign, Mr. Kabila asked voters for more time to implement his signature infrastructure and modernization plan, known as the Cinq Chantiers, mainly funded by a massive 9$ billion deal signed with China in 2008.
Opponents have called Mr. Kabila's economic prowess fictional and disconnected with the Congolese people's daily realities.
Whatever the economic growth rates for the last two years, they say the "gains" have not trickled down to the population. They point to other economic statistics such as DR Congo being ranked last on the UNDP's Human Development Report in 2011, and most of the Congolese still living in poverty, despite DR Congo being one of the richest countries in the world in terms of natural resources.
The two leading opposition presidential candidates, Etienne Tshisekedi and Vital Kamerhe, have said they can do better and have vowed if elected to fight against the endemic corruption and lack of transparency seen under Mr. Kabila's watch.
During the campaign, Mr. Tshisekedi called president Kabila "the biggest thief in the world" and worse than Mobutu Sese Seko.  Mr. Kamerhe accused Mr. Kabila of lying about his "negative" economic record.
So, after a campaign charged with claims and counter-claims, it's time for the voices of the Congolese people to be heard. Only they know who is telling the truth and who is lying.